Old Flinderian Alexandra Clarke, who also goes by 'Ally', is proof that there isn't always a straight line to follow when charting life beyond Year 12.
Now an Australian Sprint Kayaker and Surf Ski paddler with her sights set on the Paris Olympics in 2024, Ally joined Matthew Flinders Anglican College in Year 9 and graduated with the Flinders Class of 2017.
Ally returned to the College campus in September this year, after generously offering time in her busy schedule to meet with our Flinders Elite Athlete Program participants. During a lunchtime workshop, Ally answered questions from the students about the challenges and rewards of studying a degree while training and competing as an elite athlete.
During her schooling years at Flinders, Ally loved playing netball and competing in surf lifesaving, however, has since embraced a career as an elite kayaker while studying occupational therapy.
For the past two years, she has been living on the Gold Coast after being selected to train in Australia's top sprint kayaking program at the newly established centralised National Centre of Excellence (NCE).
Representing Australia in the 2022 Senior World Championships in Halifax, Canada, Ally won a 2nd K4 500 medal, and was named in the Paddle Australia Team of the Year 2022. Her K4 is training for the 2024 Paris Olympics.
"I love kayaking so much!" she says!
In this profile (see below), Ally shares her reflections on Flinders life and her sport, study and career beyond Flinders.
To read more Beyond Flinders profiles, click here.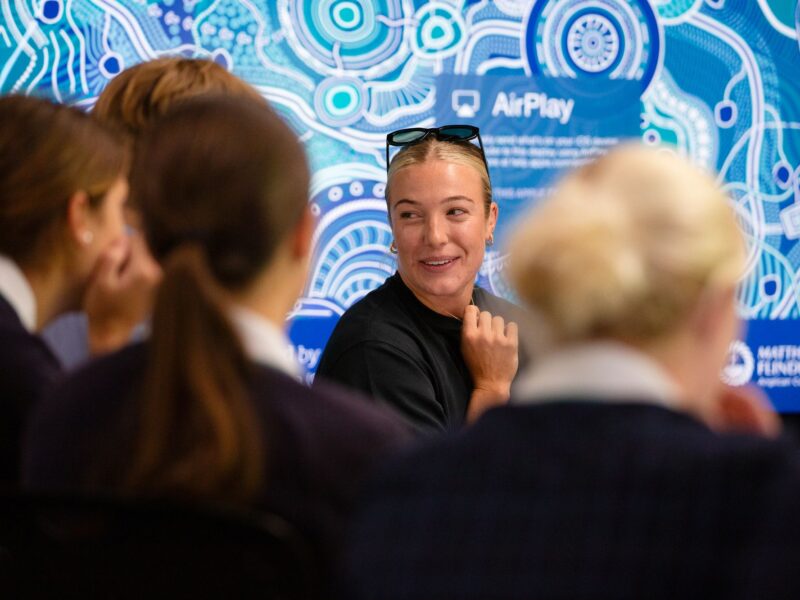 What was your tertiary plan and did it work out as planned?
I first went to the University of Queensland for a little while because I wanted to study Physiotherapy and they didn't offer it at the University of the Sunshine Coast. But then I discovered Occupational Therapy, and I realised I could study it at UniSC AND live on the Sunshine Coast. I didn't really like living in Brisbane because I just love the beach and the lifestyle here on the Coast.
Two years ago, I moved to the Gold Coast to kayak. I still had one year to go for my OT Honors degree at UniSC. But I found out that I could finish my UniSC course online from the Gold Coast. It's worked out well. UniSC has been so accommodating, which is awesome.
How did your kayaking career evolve?
After school, I had to choose to commit to netball or surf lifesaving. I chose the surf, and I began training for the Coolangatta Gold surf life saving event. And then, one day, Olympic gold medallist kayaker Kenny Wallace came to the Sunny Coast to watch some of the girls as they trained in ski paddling. I was training for the Cooly Gold in a surf ski, and he said, 'Oh, you can paddle. You should hop in a kayak!'
And then Kenny sent me to a national regatta. And from then on, it was just kayaking for me! I loved kayaking so much that I decided straight away, I'm just going to keep sticking with it.
And now, to be able to do a sport that can take me overseas and give me so many other opportunities and the chance to meet so many people, it's so crazy. I love it.
I would not have expected to be able to go and do the things I have in the last two years! I was just at the right place at the right time. If I didn't go to training that day, who knows where I'd be…
How have you found the experience of living away from home?
I loved growing up on the Sunshine Coast. It was quiet and mellow. And I still enjoy the lifestyle and coming home to visit my parents and family. But I also love living on the Gold Coast since moving there for kayaking. There is so much to do. There are great places to paddle.
I live with my training partner, who is also in the K4 and K2. We met two years ago and now we're best friends and we get to paddle together. And it's nice because you're having the same kind of lifestyle, and you have someone to talk to that is going through the same thing.
Training at an elite level is so full on - there is stress and pressure and everything that comes with it, but because we're in everything together, we go through it together. She's like my family away from family, which is a great support.
Your advice for Senior School students?
Advice A: I would just say to graduates, if things come up for you, take the opportunity! Just give it a go. Because if you don't like it, then at least you know that you tried it out.
I'm so grateful to have been given the opportunity to pursue kayaking, because when Kenny first spoke to me about the sport, I could have so easily said, "No, I'm happy to stay in the surf." That would have been fine at the time, because I was happy with surf lifesaving as my sport, although I tried to be an ironwoman, but I struggled with swimming.
I think my parents were good at encouraging me to give the kayaking opportunity a go - to step outside of my comfort zone. Because there are so many avenues. The reasoning was, that if you don't like it, at least you gave it a go. But if you don't give it a go, you're never going to know.
Advice B: Also, I would encourage students to build their confidence at every chance.

I was such a quiet, introverted person. I think I always will be, but I'm now doing things that have brought me out of my shell a lot more – like speaking to the Flinders Elite Athlete Program students!
I am also open to accepting media opportunities. My mom and dad were listening to me on the radio recently, and they said, "You would have never done that two years ago!" They are so happy to see how I've grown in confidence.
Who inspires you?
Ms Lauren Nourse, the Director of FEAP and Head of Netball at Flinders!
When I moved to Flinders in Year 9 and I learned that Lauren was our netball coach, I was like, "Oh, my gosh!"
Because I would grow up watching netball and at the time, Lauren was in the Commonwealth Games - she was captain and played centre court. At that stage, I was also playing centre court. So, I was so excited that she was going to be my coach!
And when I would train with Lauren, she was so supportive and would give me advice, and I was thinking, "I'm learning from the best, the best in the world!"
To learn more about Ally's kayaking career and travels, follow her on Instagram @_ally_clarke
For more Beyond Flinders profiles, click here.