Matthew Flinders Anglican College is accredited to host international students in all year levels (CRICOS Provider No. 01748C).
Our College, located in Buderim on Queensland's Sunshine Coast, presents a beautiful window to the Australian way of life. It is just one hour north of the state's capital Brisbane, with easy access to local and nationwide attractions. The Sunshine Coast is one of Australia's premier tourist destinations, boasting stunning white sand surf beaches and a charming hinterland.
It is a wonderful environment for water sports, including canoeing, fishing, kayaking, surfing, sailing and swimming, and is also rich with art and music. Our summer temperatures range from 17–30C with a temperate winter climate of 10–22C.
Our College is registered with CRICOS to provide educational programs for overseas students who have the choice of joining mainstream classes with additional ESL support arranged if needed. Students can live with relatives, or those studying in Years 10–12 can be accommodated with homestay families approved by our College.
The courses provided at Matthew Flinders Anglican College for overseas students include:
| Segment | CRICOS Code |
| --- | --- |
| Primary School (Years P–6) | 063483K |
| Junior Secondary Studies (Years 7–10) | 098474M |
| Senior Secondary Certificate of Education (Years 11–12) | 098475K |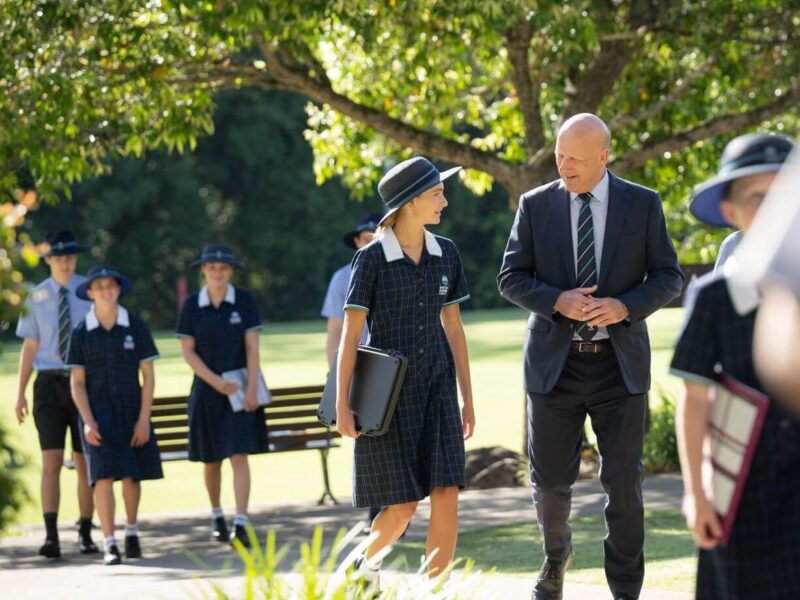 Students must provide certified translated copies of recent school reports and a reference from their school Principal, and must comply with the requirements of the Department of Immigration regarding regulations governing international student entry. International students who wish to attend our College will need to satisfy English proficiency requirements and have the financial capacity to cover all expenses.
Students who are accepted into the school are required to meet our College's expectations in regards to effort in academic study, behaviour, values and participation in activities.
The International Students Information Booklet (see below) provides details on fees, entry requirements, mentoring course progress and attendance policy, code of behaviour and the refund policy.
Schedule of Fees and Levies for 2024
Fees, Charges and Conditions of Enrolment – Matthew Flinders Anglican College Ltd CRICOS Provider No. 01748C
Tuition Fees are payable six months in advance.
How to enrol
To enrol as an International Student at Matthew Flinders Anglican College please follow the following procedures:
Download and read all the College Policies and additional information in the International Booklet
Fees, Charges and Conditions of Enrolment
The International Student Information Booklet covers the following topics:
Uniform Policy
Code of Behaviour
Refund Policy
Fees, Charges and Conditions of Enrolment
Deferment, Suspension and Cancellation Policy
Complaints and Appeals Policy
Accommodation and Welfare Policy
Student Transfer Request Assessment Policy
College Privacy Policy
TPS Protection of Students
Change of Address Acknowledgement
Registration Fee
A Registration Fee of $220 (including GST) must be paid with each application for enrolment. This is not refundable and does not guarantee a place at Matthew Flinders Anglican College Ltd.
Confirmation Fee
If the application is approved, an offer of a place is made. Parents must complete and sign an Enrolment Agreement and an Acknowledgement of acceptance of the Uniform Code, Code of Conduct, Refund Policy, Dispute Resolution Policy, and Change of Address Acknowledgement, and pay a Confirmation Fee of $1,000.
Non-tuition Charges
Non-tuition annual charges for Primary students and Secondary students do not include musical instrument hire, music or marine studies camps, or co-curricular charges, all of which are payable at the Accounts Office by the student at the time the expense is incurred.
Postponement of Enrolment
If parents wish to postpone a student's date of entry after enrolment has been confirmed, they must give to the Principal notice in writing to that effect. The College will give no guarantee of a place for the proposed new date of entry.
Termination of Enrolment
If a student is to leave the College, then the parents will give the Principal notice in writing to that effect:
not later than the first day of the term at the end of which it is intended that the student should leave, or
if the student is to leave during the term, at least three months prior to the date on which it is intended that the student should leave.
If the parents fail to comply with these requirements then one (1) term's fees will be charged in lieu of notice. If any of the monies due and payable to the College remain unpaid for a period in excess of six weeks from the due date the Principal may terminate the enrolment.
Overseas Student Health Cover Levy
The Overseas Student Health Cover Levy as required by the Commonwealth Government is payable prior to commencement.
QCAA Levy
The charge, detailed in the schedule above, as required by the Queensland Curriculum and Assessment Authority is payable prior to commencement for students completing Years 11 and 12 only. Parents should note that if course fees rise during a student's course, the increase will only apply to the following billing period. If a student changes visa status (e.g. becomes a temporary or permanent resident) he/she will continue to pay full overseas student fees for the remainder of that term.