Students from Matthew Flinders Anglican College competed at the Independent Districts Schools Cross Country Carnival yesterday with outstanding results. Overall, 27 runners from the College were selected to progress to the regional trials, the most from any independent district school. The Flinders Primary School took out first place, with the Secondary School team finishing as runners-up. We congratulate all students in involved for their exceptional efforts.
9-12 Years Age Group Achievements
The Primary team rallied and persisted throughout the day, coming together to win the Carnival for the first time since 2008. In the 9-Years age group, Jack S placed 2nd, James W placed 4th and Jameson T placed in the top 10. A sensational finish by Grace S saw her place 2nd after an epic battle up the hill. Onto the 10-Years age group, Grace S took out 1st place with an incredible win and Charlotte D raced well, coming in 9th place. Cade H raced well and placed 7th, with Connor J finishing not long after in 8th place. Our 11-Years age group performed brilliantly, with six male athletes finishing in the top 12 from Rory N in 3rd place, Tim P in 5th place, Hugh B in 7th place, Thomas M in 9th place, Fraser M in 10th place and Aarush G in 12th place. The 11-Years age group girls team came home strong, with Flinders students taking out 1st, 2nd, 3rd, 4th and 5th place! Congratulations to Milly S in 1st place, Elize C in 2nd place, Summer L in 3rd place, Milla D in 4th place, Isabella E in 5th place and Bella M in 10th place. Finally, the 12-Years age group saw some amazing races, with Natalia W finishing in 1st place, Kya W in 3rd place, Tahlia C in 6th place and Levi M in 5th place.
There were many exceptional individual races throughout the day but it was our athlete's support for one another as they each crossed the finish line that saw our team performance soar. What a cheer squad! We congratulate all of our students on their efforts.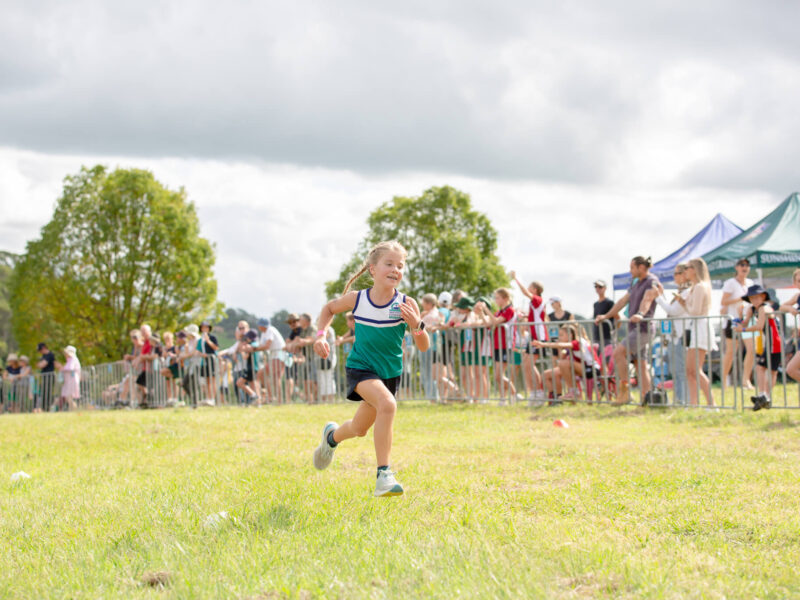 13-18 Years Age Group Achievements
The Flinders Secondary team finished in second place, with many standout performances. Congratulations to our Age Champions: U14G Sienna C and U16B Mack H, our runners-up: U15G Serena B and U14G Chloe J, and our third place athletes: U18B Josh F, U17B Tom F, U14B Nate W and U14G Maya M.
The following 12 students qualified as members of the Independent District team who will compete at the Sunshine Coast Regional Trials later this month: Josh F, Tom F, Mack H, Sophie J, Serena B, Alexis L, Ainslie B, Nate W, Sienna C, Chloe J, Maya M and Holly P.
It was an exceptional effort by all of our athletes who competed on the day, racing with courage, commitment and determination. Well done to our Flinders Secondary team and carnival runners-up on their incredible performance.
Congratulations to all runners for giving their best and representing our College.
To see all the photos from the day, head to MyFlinders.