It was declared "The best Flinders I-WiSH yet!" to celebrate National Science Week (NSW).
On Tuesday, 15 August, Matthew Flinders Anglican College on the Sunshine Coast wrapped up its third annual Inspiring Women in Science and Health (I-WiSH) conference.
The one-day event aimed to inspire, mentor and challenge 60 young women in the Senior School with a passion for Health-related Science, Technology, Engineering and Mathematics (HeR-STEM). 
The conference featured seven leading women researchers and their doctoral students who visited from the University of Queensland (UQ) and University of the Sunshine Coast (UniSC).
The guest researchers acted as role models – first sharing their cutting-edge, world-class doctoral projects as snappy elevator pitches, and then mentoring the students to empathise, devise and pitch an advocacy strategy to promote one of the doctoral projects in a fast-paced 'change-maker' challenge.
The conference involved 32 young women in Year 10 and 24 in Years 11 and 12 at Flinders, along with a group of Year 10 Science students visiting from schools in the region.
Watch the I-WiSH 2023 highlights in this two-minute video.
I-WiSH - Creating opportunities for young women in the sciences
Leading I-WiSH 2023 was Flinders Discovery Institute Director, Dr Louise McCuaig and Secondary Science Teacher and Year to RISE Project Leader, Mrs Emmie Cossell.
Dr McCuaig said the I-WiSH launched in 2021 and had become an annual commitment to help address the under-representation of young women in the sciences.
"At Flinders, we want young women and men with a passion for STEM to have opportunities to meet scientists in person and be inspired by their intelligence, grit and creativity as they strive to discover and contribute positively to the world," Dr McCuaig said.
"Stories of their studies and careers help to demystify and reveal the pathways available in the sciences." 
Recent 'State of STEM Gender Equity' data by the Australian Department of Industry, Science and Resources reveals that:
- girls' confidence in STEM subjects is lower than boys and falls as they get older; and
- women account for only 27% of the workforce across all STEM industries, a drop of 1% from 2020.
To kickstart the I-WiSH, each of the seven researchers gave a fascinating elevator pitch on their doctoral project, with topics ranging from the mapping of dark energy to nutrition and paediatric wellbeing, the impact of toxins on germ cells, restoration of coastal ecosystems, countering blue screen impact on macular degeneration, and fighting dementia through exercise.
The I-WiSH Challenge:
Devise and Pitch a Change-Maker Advocacy Strategy to Help Make the World a Better Place 
It was then time for students to form teams, each guided by guest researchers as mentors. 
The conference was emceed by a group of Flinders Year 12 students who had participated in the 2021 and 2022 I-WiSH events.
The seven teams had just three hours to identify and empathise with one of the doctoral projects presented to them earlier in the day, and devise an advocacy strategy promoting their chosen doctoral project to Australian youth.
The teams each pitched their change-maker strategy to a panel of judges as a captivating three-minute thesis to compete for a highly sought-after mock 'Queensland Women in Science Change-Maker Grant' worth $150,000!
Dr Louise McCuaig said the students' collaborative efforts and final pitches were "impressive".
"Our students certainly impressed our guests from UQ, who were energised by the buzz in the room!" Dr McCuaig said.
"The students were courageous, curious, creative and collaborative!
"The quality of the work produced was truly engaging and I am delighted to report that all seven teams truly excelled."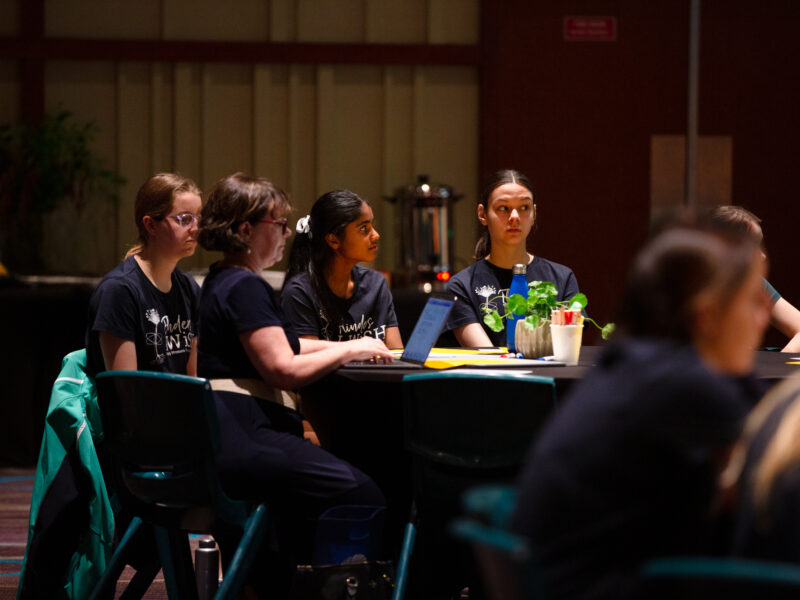 I-WiSH Change-Maker Teams and Final Pitches
Team #3 were the winning change-makers, successfully pitching their app, Fertility Friendly Future (FFF), to the judges.
The FFF app aims to solve the problem of greater awareness about endocrine-disrupting chemicals in everyday products, such as shampoo, toothpaste and make-up, and the impact on women's fertility, with statistics revealing one in six women have fertility struggles.
The other six teams also developed exciting advocacy strategies to help promote the doctoral projects aimed at improving people's lives and communities, including: 
- An online program and app in schools to educate and empower students to develop healthy habits for an active life to combat the negative effects of sedentary behaviour during the school day
- A seven-day bootcamp at Mt Kent Observatory in Toowoomba to inspire girls to pursue careers in coding and cosmology, where girls code by day and explore cosmology by night
- A nationwide school screening program for early detection of scoliosis to support children's health
- A suite of virtual reality, AI and online programs to support the early diagnosis of scoliosis and its treatment along with gamified preventative exercises to combat its negative health impacts
- An app to educate school students on how to identify and minimise the risks of endocrine-disrupting chemicals in their everyday lives to protect their health.

I-WiSH Conference Feedback
I-WiSH presenter and mentor, Dr Taylor Dick from the UQ School of Biomedical Sciences noted, "Thank you for letting me be a small part of your big I-WISH day at Flinders.
"Interacting with your students has yet again re-invigorated my passion to be a scientist and reminded me why I love my job," Taylor said.
"It is about more than the work…it's about inspiring those young girls to be empowered through science and research and pursuing careers that they love.
"Witnessing their motivation, diligence, curiosity and passion today was just such a treat."
Flinders Year 12 student Paige was a mentor and MC of the event.
"I just wanted to say on behalf of all the Year 12s involved, we felt so privileged to be at 2023 I-WiSH," Paige said.
"Not only did we witness the incredibly bright young minds of the future in their element, but we also saw how the event has adapted and grown since our first year.
"It was such an honour to be the coach of the winning team! I was proud and impressed!"
Researchers and Doctoral Students, I-WiSH 2023
Ashlee Caddell, Astrophysics PhD Student, UQ
Cassady Swinbourne, a PhD student, UQ, working in water and environmental biotechnology
Dr Samantha Stephens, a Research Program Manager and expert in healthy behaviours working at the Health and Wellbeing Centre for Research Innovation, UQ
Isabel King, BSc, MSc, PhD Candidate, University of the Sunshine Coast
Phoebe Duncombe, PhD Candidate, School of Biomedical Science, UQ
Fiona Cheung, BSc (Hons), MPhil, PhD, Bowles Lab, School of Biomedical Sciences, Faculty of Medicine, UQ
Professor Rossana Ruggeri, a cosmologist and research fellow, UQ, who maps galaxies and investigates dark energy
Associate Professor Josephine Bowls, a leading germ cell biology researcher, UQ, whose work is relevant to human fertility
Dr Taylor Dick, Group Leader, Neuromuscular Biomechanics Lab and Deputy Director Higher Degree Research Training (SBMS), School of Biomedical Sciences, Faculty of Medicine, UQ
Professor Lisa Nissen, Program Director - Health Workforce Optimisation, Centre for Business and Economics of Health, Faculty of Business, UQ
Dr Sjaan Gomersall, Associate Director and a Senior Research Fellow at the Health and Wellbeing Centre for Research Innovation at School of Human Movement and Nutrition Sciences and Senior Lecturer in Physiotherapy at the School of Health and Rehabilitation Sciences at The University of Queensland
Dr Gloria Bravo, Advance Queensland Industry Research Fellow at UQ School of Chemical Engineering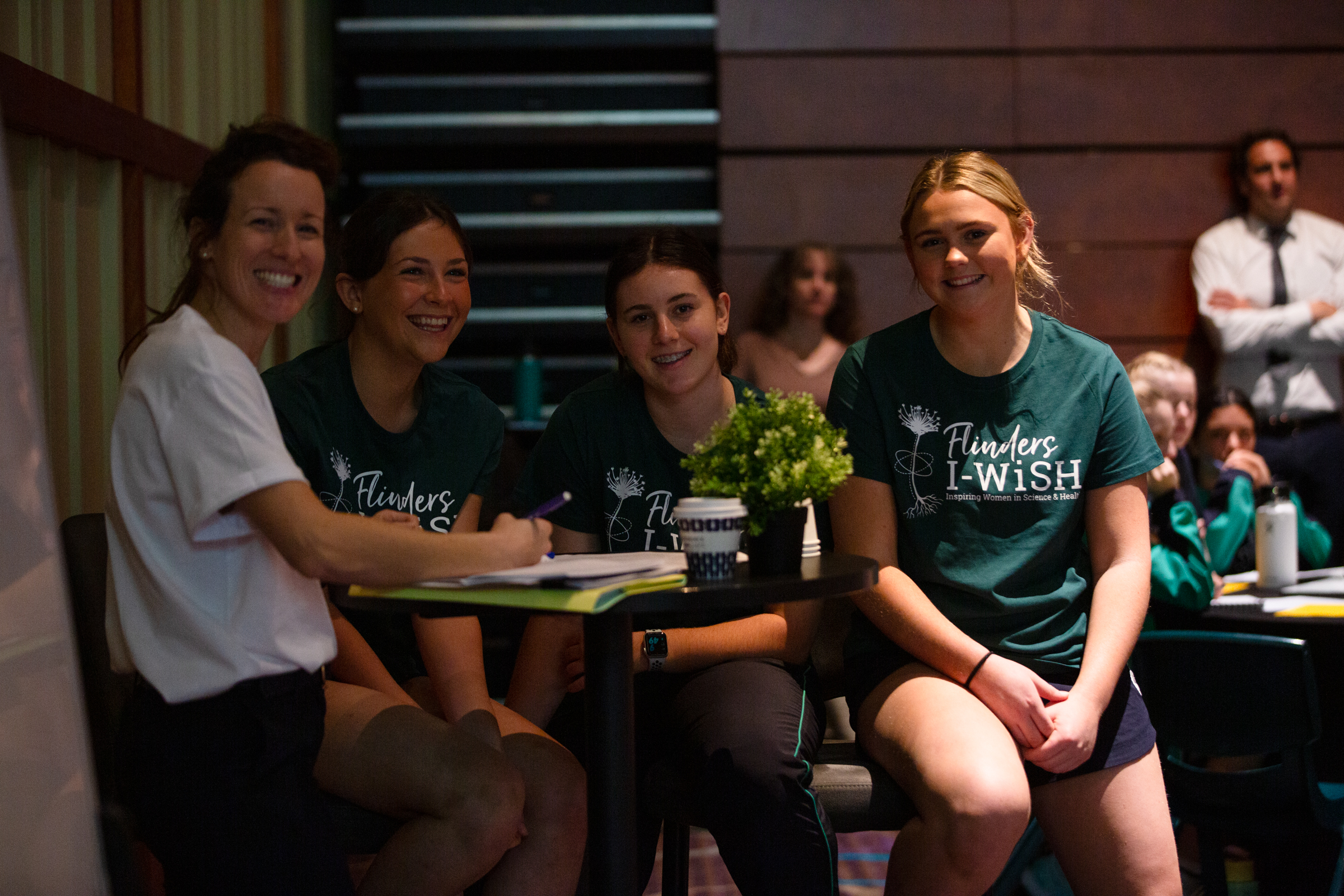 END.