Six talented music students at Matthew Flinders Anglican College have successfully auditioned to perform the final score with the masterful Queensland Symphony Orchestra in their upcoming concert on the Sunshine Coast on Friday, 31 March.
Starting at 7:30pm in the Flinders Performance Centre, the QSO's Hymn to Mother Earth concert will be conducted by the QSO's Principal Guest Conductor Johannes Fritzsch.
Concert tickets are on sale now and open to the public at https://www.trybooking.com/CFRVO
It has been many years since the QSO performed in the region, making it an exciting milestone concert for all ages on the Sunshine Coast.
Prodigy Project to Inspire Young Instrumental Musicians
The six Flinders students auditioned and were selected as part of the Queensland Symphony Orchestra's Prodigy Project – a high-calibre mentoring program where QSO musicians play alongside young instrumental musicians and seek to inspire their creativity and ambition.
This experience aligns to the Queensland Instrumental Music Curriculum and the Australian Curriculum in providing opportunities for students to perform and developing technical and expressive skills.
The Flinders Prodigy Project group includes four students in Year 12, Craig K (French Horn), Lara S (Violin), Jerome F (Percussion) and Angus L (Viola); and two students in Year 8, Liam B (Trumpet) and Charlotte F (Cello).
The students will each receive one-on-one musical mentoring during the afternoon on Friday, 31 March and then join the full orchestra in the evening – replacing a QSO musician – to perform the final piece of the show, 'Thunder and Lightning Polka' by J. Strauss Jnr.
As part of their audition process, the students had to learn and record their part of this piece, as well as their own choice piece.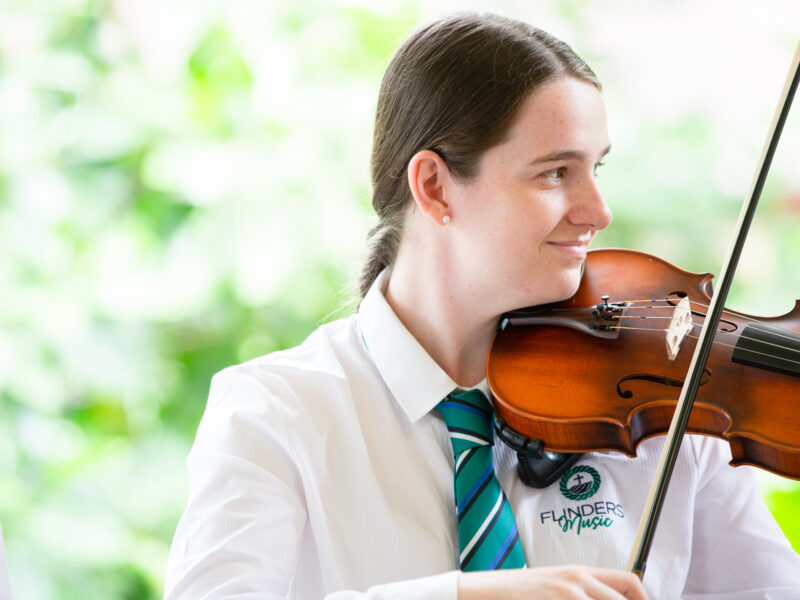 Flinders Celebrates Music Performance and Mentoring
Flinders Principal Stuart Meade said, "This will be one of the most significant events hosted at Matthew Flinders Anglican College and we are thrilled to be sharing the experience with members of our Sunshine Coast community.
"We'll also be cheering on our student musicians who are selected for this unique mentoring and performance opportunity as they experience firsthand the power of music to enrapture audiences."
The concert will be conducted by the QSO's Principal Guest Conductor Johannes Fritzsch who has conducted many leading orchestras around the world and conducts the major Australasian orchestras as well as leading productions for Opera Australia, Opera Queensland, West Australian Opera and State Opera of South Australia.
Flinders has a robust curriculum and co-curricular Music Program for its students from Prep to Year 12 with more than 650 music students developing their music and vocal skills across more than 15 ensembles.
Professional Music Venue at Flinders
Flinders is honoured to be hosting the QSO in its Flinders Performance Centre, a state-of-the-art professional venue with strong acoustics.
The Performance Centre features sufficient space to accommodate the ensemble of 64 musicians on the raised stage, providing the audience with a clear and impressive view of the Orchestra in action.
The concert is designed, like nature itself, "to soothe you, fill you with awe and refresh your soul".
The QSO considers its live performances an opportunity to share their passion and joy with as many people as possible, noting: "We are more powerful when we all come together to deliver and appreciate the sound and excitement that surrounds music."
Get Your Tickets Now
See the full QSO 2023 season at qso.com.au
Tickets are open to the public and on sale now with concession prices available via TryBooking: https://www.trybooking.com/CFRVO
Running time (guide only): 1hr 20 minutes
Recommended age: 6+
Ticket prices: Adult $65 and Concession $40
About the Hymn to Mother Earth Concert Program
As long as composers have been writing music, the natural world has been an inspiration.
And like nature itself, this concert will soothe you, fill you with awe and refresh your soul.
The program presents magical musical depictions of nature, including Australian composer Peter Sculthorpe's evocative work 'From Uluru', depicting the heartland of the Australian outback.
Also on the program is Smetana's ever-popular 'The Moldau', following the course of a river from a tiny stream (the flute) through to its majestic outpouring into the ocean.
Concert Program on Friday, 31 March at Flinders Performance Centre:
SMETANA The Moldau
SCULTHORPE From Uluru
BRITTEN Sea Interlude from Peter Grimes, Storm
GLAZUNOV Autumn, from The Seasons
BOULANGER Of a Spring Morning
RESPIGHI The Birds, Nightingale and Cuckoo
FALLA Ritual Fire Dance
R.STRAUSS Moonlight Music from Capriccio
J STRAUSS JNR Thunder and Lightning Polka
Show Details
Friday, 31 March at 7.30pm
Hymn to Mother Earth by the Queensland Symphony Orchestra
Principal Conductor Johannes Fritzsch
Presented by Matthew Flinders Anglican College
Flinders Performance Centre
Stringybark Road, Buderim, Sunshine Coast

Running time (guide only): 1hr 20 minutes
Recommended age: 6+
Ticket prices: Adult $65 and Concession $40
Book tickets now: https://www.trybooking.com/CFRVO