A new partnership between Matthew Flinders Anglican College and the not-for-profit Manufacturing Excellence Forum (MEF) is bridging the gap between classrooms and the real world to inspire students with a passion for STEM.
The MEF is committed to develop a globally significant manufacturing cluster on the Sunshine Coast to help shape a smarter, more sustainable and innovative community.
As a supporter of the MEF, Flinders will benefit from its students and staff having access to:
networking events with local manufacturers
real-world STEM applications and innovations
mentorship programs
potential internships
cutting-edge resources, and
insights into advanced manufacturing.
The MEF said, "This new partnership with Matthew Flinders Anglican College allows us to tap into a fresh talent pool, enriched with young, inquisitive minds eager to solve tomorrow's challenges.
"By nurturing these young minds today, we are securing a brighter, more sustainable future for the Sunshine Coast's manufacturing industry."
The Flinders Head of Technologies, Mrs Natalle Sutton said the College's partnership with the MEF would expose students to diverse industries, from aerospace and engineering to textiles, fashion, food, construction, medical supplies, industrial machinery and maritime technologies.
Mrs Sutton said, "Our support for the MEF will hopefully enable more projects that bring education and business closer together under the banner of 'innovation' to challenge and inspire young people.
"We will also gain access to the MEF database of over 1,300 manufacturing business and community participants across the Sunshine Coast region, enabling our students and staff to connect with industry experts and entrepreneurs," Mrs Sutton said.
"Many of the companies engaging with MEF are using cutting-edge technologies and the 'design thinking' approach along with enterprise skills.
"These are the precise skills and opportunities we want our students to become confident in using as they prepare for an ever-changing modern workforce."
Events and Project Opportunities Hosted by the Manufacturing Excellence Forum
A group of Flinders staff and students will attend an MEF industry event on Thursday, 16 November at the Sunshine Coast Maker Space in Warana.
The event will present first-class technology in action, including CNC machines, 3D scanners, 3D printers and electronics assembly equipment - all technology that helps build prototypes and develop new innovative products and solutions for industry.
"By attending such industry events, we hope our students are inspired and challenged to explore their own design thinking projects, especially when Flinders' new state-of-the-art Infinity Centre opens in the Secondary School in January 2024 as part of our Flinders Masterplan."
Three Flinders Senior students are already involved in a student team project, the eVTOL, run by the MEF and the University of the Sunshine Coast.
Through this project, the students are learning skills across design in mechanical, electrical, software, production and manufacturing, leadership, entrepreneurship and business.
Flinders Signature Programs and Curriculum to Support Design and Innovation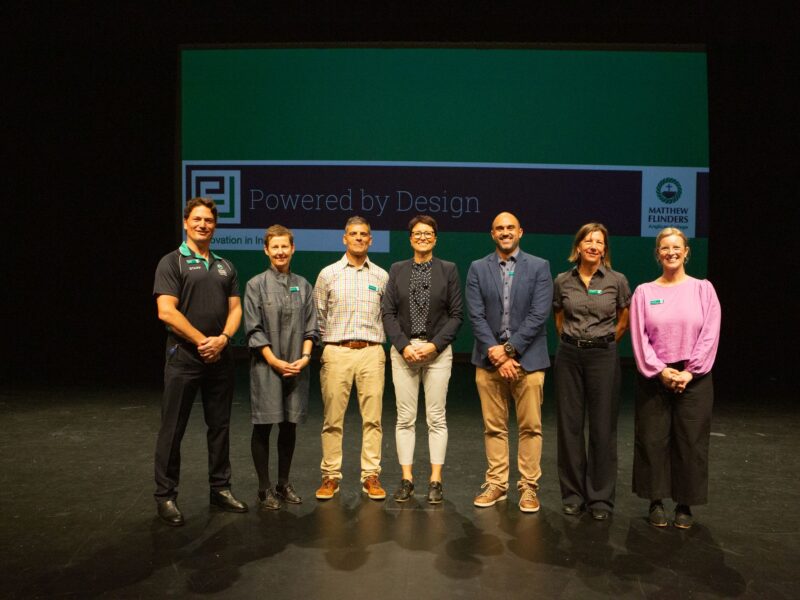 "We have also worked successfully with the MEF through our Flinders Powered by Design conferences in 2022 and 2023," Mrs Sutton said. (See the Flinders Powered by Design short video wrap-up here.)
"We featured guest speakers from MEF, with a keynote by MEF founder Tim Kelly as well as presentations by other members, including Lachlan Smart (Smartline), Neil Waldbaum (Deep Orange Design), Naomi Elliott (Concept Labs) and Emma Greenhatch (previously CEO of the Food and Agribusiness Network).
"Students were fascinated to learn from these industry experts about the limitless study, career and entrepreneurial opportunities on offer across industries locally on the Sunshine Coast and also Australia and the globe.
Through the Flinders curriculum, students are able to explore Design and Technologies from Years 7 to 12 to learn the skills and confidence to grapple with new and often 'wicked' problems that require creative solutions.