Students are being challenged to let their imaginations run wild at Matthew Flinders Anglican College with a new painting by Sunshine Coast artist Tara Spicer commissioned for the College's growing art collection.
Titled The Big Ride, the artwork (cover photo) is exhibited in the Primary School Administration Office for students, staff, parents and visitors to enjoy.
The oil on linen painting features a larger than life metallic balloon dog, set within a topiary garden on a cloudy day. A ladder is propped against the dog, seemingly challenging the viewer to consider climbing up for a ride!
The piece was inspired by American artist Jeff Koons' Ballon Dog.
Tara explains, "The Big Ride lets your mind play and explore the quirky and adventurous side of life and remember the things that make you smile. It was created to inspire, humour and enchant."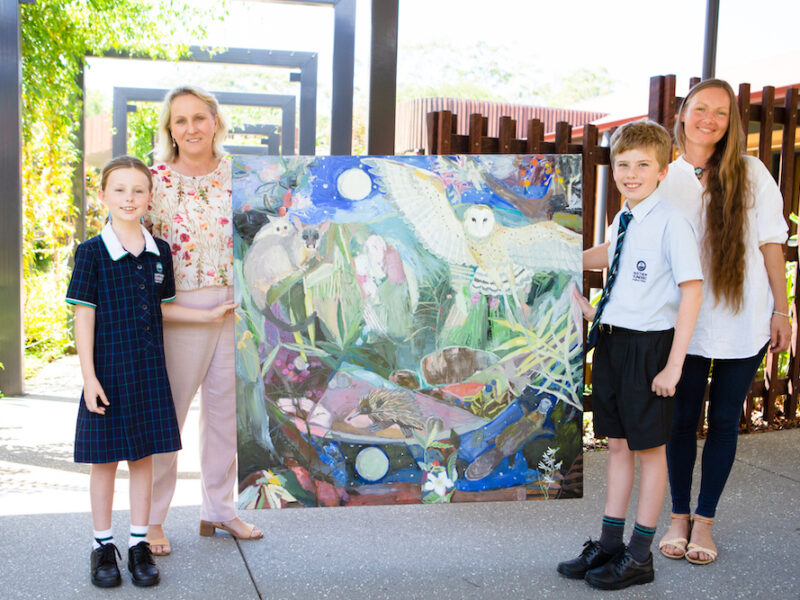 Flinders Head of Primary, Mrs Trudi Edwards said it was important for students to be surrounded by art in their school environment.
In 2023, the Flinders Primary School also commissioned an oil on linen painting, titled Splendour of the Rainforest (image left) by mixed media artist Laura Vecmane who lives and works locally in Maleny.
"Interacting with art as a natural part of life at Flinders encourages our students to explore their creativity, be curious and consider diverse perspectives," Trudi said.
"We are steadily building an art collection in our Flinders Primary School for our community to experience, and this new piece by Tara Spicer is a joyful addition!" she said.
"Many of our art commissions are by local artists and we are thrilled to play a role in celebrating the immense talent on show in the Sunshine Coast region."
Primary Art Teacher Mrs Emma Ferris said, "Our students also benefit from meeting the artists in person and learning from them in creative workshops we host in our art classrooms.
"And they especially enjoy the opportunity to observe an artist in action, for example when wall murals and public art installations are created on campus over a few days."
Celebrating Art on the Flinders Campus with Outdoor Wall Murals and Sculptures
Other artworks that enrich the Flinders campus (see image gallery below) include large-scale wall murals in the Flinders Primary School by renowned Queensland public artist David Houghton, Australian artist Joel Moore (a.k.a. Mulga the Artist) and Sunshine Coast artist Claire 'Fuzeillear' Matthew whose piece is on the exterior walls of the Wonderarium learning centre, which opened in 2021 as part of the Flinders Masterplan.
Sunshine Coast artist Shane Christensen carved a giant cockatoo sculpture from an old wooden log in the Primary School's Outdoor Classroom over five days. The sculpture was in collaboration with local artist Jandamarra Cadd and the College's Year 4 students.
And in 2022, local artist Sarah Sculley collaborated with the College's Secondary School students in 2022 to create a large-scale mural art project on the outdoor wall of the College's Sports Centre. 
Flinders Secondary School Head of Art Mrs Ros Braithwaite said the mural created with Sarah Sculley enabled students from Years 7 to 12 to work alongside a local artist while creating engaging and imaginative spaces for campus visitors to enjoy.
"A project like this is not only an opportunity for the students to collaborate across year levels but something in which the entire College community can take pride," Ros said.
"I have seen firsthand how effective the many mural projects across the College have been in establishing a sense of connection to place, giving students a greater sense of ownership over the campus," she said.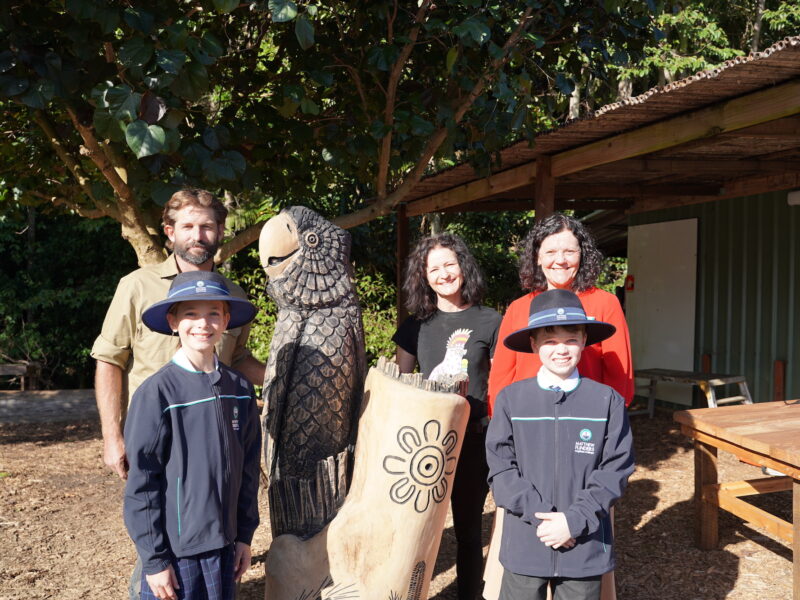 Cover image caption: L-R: Artist Tara Spicer presents her commissioned artwork to Flinders Head of Primary Trudi Edwards and Head of Art (Primary) Emma Ferris
END.