"That was an opportunity of a lifetime!" was the feedback from one of the six talented music students at Matthew Flinders Anglican College after playing alongside the Queensland Symphony Orchestra on Friday, 31 March.
Conducted by the QSO's Principal Guest Conductor Johannes Fritzsch, the students were fortunate to perform with the QSO musicians the final piece of the 'Hymn to Mother Earth' concert to a packed Flinders Performance Centre. 
The audience was enraptured throughout the concert as the QSO masterfully performed nine magical pieces that depicted nature, including Australian composer Peter Sculthorpe's evocative work 'From Uluru', depicting the heartland of the Australian outback.
And for the final score, the audience gave an extra supportive cheer when the six young musicians joined the QSO ensemble on stage and confidently performed the high-energy 'Thunder and Lightning Polka' by J. Strauss Jnr.
The students had successfully auditioned for the opportunity though the QSO's Prodigy Project, a high-calibre mentoring program where QSO musicians mentor young instrumental musicians and play alongside them, seeking to inspire their creativity and ambition.
As part of their audition process, the students had to learn and record their part of this piece, as well as their own choice piece.
On the Friday afternoon before the concert began that evening, the students were matched with a QSO musician for one-on-one mentoring in preparation to join the ensemble for the grand finale. 
The Flinders Prodigy group included four Year 12 students:
Craig King (French Horn) mentored by QSO's Vivienne Collier Vickers
Lara Swenson (Violin) mentored by Brenda Sullivan
Jerome Fitzgerald (Percussion) mentored by David Montgomery; and
Angus Lisle (Viola) mentored by Nicole Greentree
And two Year 8 students:
Liam Booth (Trumpet) mentored by QSO's Rainer Saville, and
Charlotte Farrell (Cello) mentored by Matthew Kinmont.
Flinders Director of Music, Mr Nick Campbell said the students were star-struck at the chance to be conducted by QSO's masterful conductor, Johannes Fritzsch.
Johannes has conducted many leading orchestras around the world and conducts the major Australasian orchestras as well as leading productions for Opera Australia, Opera Queensland, West Australian Opera and State Opera of South Australia.
Words from our Prodigy Project students and staff
Flinders Director of Music, Nick Campbell said, "We thoroughly enjoyed watching our Flinders Prodigy students working one-on-one with QSO mentors for an hour before the concert.
"The mentors reaffirmed the teaching that the students previously experienced with their specialist instrumental teacher," Nick said.
"And they each gave invaluable technique advice to help the students with their performance of the 'Thunder and Lightning Polka' with the full Queensland Symphony Orchestra," he said.
"This opportunity was so inspiring and we hope to provide similar experiences for the Flinders students and the wider community in years to come."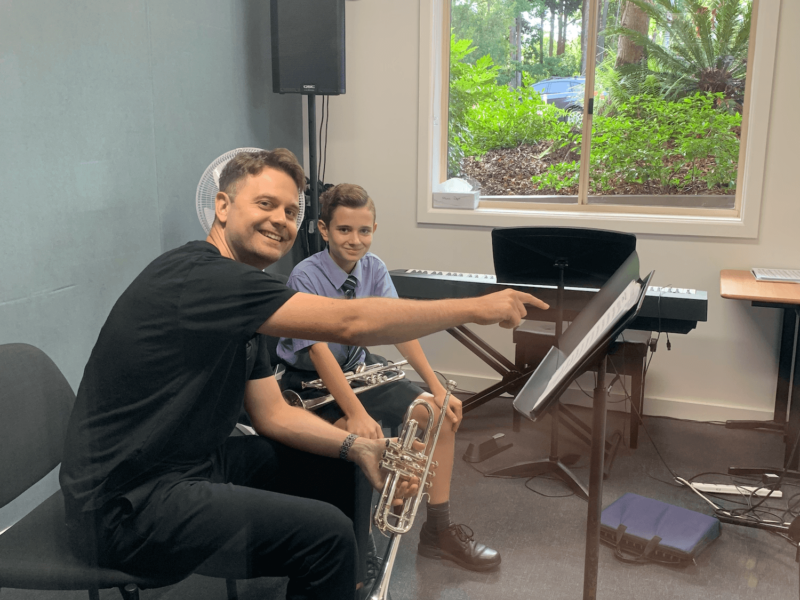 Flinders Music Teacher, Mr Dean Kennedy said, "There's no doubt our students made lifelong memories on that evening!
"It was inspiring to witness our students combine years of commitment to their instrument with their maturity, enabling them to integrate with the Queensland Symphony Orchestra's professional musicians with such ease," Dean said.
"As educators, the experience further inspires us to do what we do here in the music department at Matthew Flinders Anglican College.
"We were so proud of our students!"
Year 8 student Charlotte Farrell (Cello) said the mentoring and performance experience was "incredible".
"My amazing mentor, Matthew Kinmont, gave me a lot of new information that strengthened my cello playing even more and was evident throughout the entire music piece that we performed.
"This composition was enjoyable and energising, and sent a huge rush of excitement and energy while on stage," Charlotte said.
"I am extremely grateful to have been given this opportunity and I thank the QSO for having me!"
Liam Booth (Trumpet) in Year 8 said, "Playing with the QSO was a great experience. It was a very comfortable environment to be in with people who love what they do.
"My mentor, Rainer Saville, taught me some very useful tips and tricks that he had learnt from his experience being a professional musician that I am now incorporating into my playing.
"Flinders has a great music program with enthusiastic teachers, many ensembles to be part of and an amazing Performance Centre. The Music EDGE program is also a great opportunity to extend our musical knowledge with like-minded, encouraging peers."
In Year 12, Craig King (French horn) said it was exciting to be able to play in a section with professional musicians and to be mentored by one of them, as he hopes to play music professionally after graduating.
"It was a chance to better understand how it feels to play in a professional orchestra. I also learned how professional horn players deal with some of the difficulties of the instrument, such as mispitching," he said.
"As for our Flinders Music Program, I love the sense of community that it creates, and all the opportunities available to students."
Lara Swenson, Year 12, Violin said, "The QSO is such a prestigious orchestra and getting to hear them live in concert at Flinders is very exciting in itself. Then having the opportunity to perform alongside them for their finale for the evening was huge to me!
"The repertoire for the entire concert was very impressive, and I was thrilled to be involved in performing J Strauss Jnr's 'Thunder and Lightning Polka'."
"I challenged myself and learned so much through the audition process alone for this opportunity, and the performance helped my confidence as a young musician."
Lara joined the Flinders Music Program in Year 7 when she joined the College.
Since my involvement in Year 7, I have been overwhelmed by the 'family-like' culture that surrounds the Flinders Music Department, which is exemplified by both staff and students.
"The Flinders Music staff have been so enthusiastic and encouraging throughout the audition and organisation process so far and I would like to thank Mr Campbell and Mr Kennedy in particular for their support of my taking on this opportunity."