Five student teams from Matthew Flinders Anglican College Primary School have earned a place in the Activate National Grand Final Showcase in Brisbane on Monday, 20 November.
The Flinders teams will join 30 teams of school-aged entrepreneurs from across Australia in pitching their innovative, scalable and sustainable business ideas, with the opportunity to win funding and support to launch their ideas in the real world.
The Flinders students' epic business ideas range from a pet dog health program, to a chocolate-inspired environmental sustainability campaign, a wheel rim product for mountain bikes, a product to support cancer patients to safely enjoy swimming as a hobby, and a product that encourages customers to grow plants from seeds.
The Activate classroom program and national competition is hosted by innovative education company, Future Anything, founded by educator and entrepreneur Nicole Dyson. Future Anything's aim is to transform young people's passion and curiosity into innovative ideas that make their world a better place.
In 2023, Flinders Primary School was one of 65 Aussie schools to engage with the award-winning Activate program in their classrooms and learn how to build an enterprising mindset. This saw every Year 6 student at Flinders work in small groups in Terms 3 and 4 to create for-purpose business solutions to the problems they care about.
Flinders is one of the few Primary Schools to progress to the Semi Finals and Grand Final events.
The Semi Finals event on Tuesday, 24 October featured 40 teams from across Australia, with each team given just three minutes to pitch live on YouTube to a judging panel.
Read Milly Sheridan's student reflection of her team's semi finals pitch below.
Three of the Flinders student teams presented from a media room in the Primary School's Flagship Centre, with the entire Year 6 cohort and staff eagerly watching the livestream just metres away in their classrooms.
After each Flinders pitch, the Year 6's roars of support and celebration could be heard across the campus!
The three Flinders' teams to pitch in the Semi Finals online contest included:
Woof Watchers - a personalised dog weight-loss program to support healthy pooches by Adele Larsen and Milly Sheridan who won the People's Choice and the Runners Up awards;
RimWrap - a protective wheel rim for mountain bikes to make the sport more affordable by Toby O'Connor, George Blake and Cooper Sparks who won the People's Choice; and
Blindsighted - a game made to simulate what life is like and to build awareness for people with vision impairment by Josh Macfarlane.
And the three Flinders' teams to progress straight to showcasing at Grand Final were:
Treetops - an aesthetic fake plant business which gives away seeds with every purchase by Gabi Chomley and Aara Afraz
WICS (Wow I Can Swim) is a support product to help cancer patients enjoy swimming again by waterproofing their central line tape by Emerson Blanch
Incredible Insects - Fiona fly, Bella bee and Flora firefly are custom chocolates made to spread awareness about the importance of insects in our environment by Emma Zhao and Isla Gray.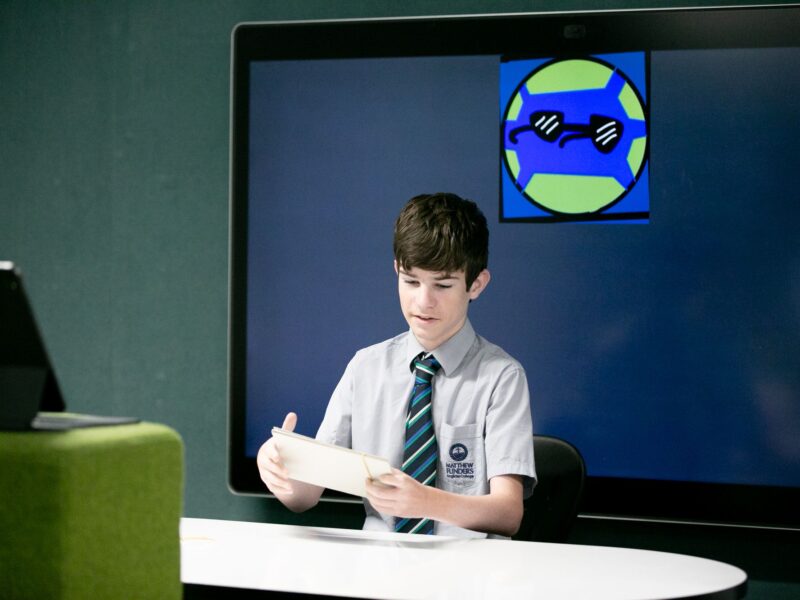 Activate and Design Thinking at Flinders
Head of Primary, Mrs Trudi Edwards said Flinders was committed to being a leader in design thinking.
"Now in its fourth year, our bespoke design thinking programs were created to enable our students to 'do well by doing good'," Mrs Edwards said.
"Our I-care program for our Prep to Year 2 students and i-Impact program for our Years 3 to 6 challenge students to use design thinking to create innovative solutions to problems in our local and global communities.
"This year, we decided to join Activate to open up the possibilities for our Year 6 students to solve a problem close to their heart by developing a prototype and following the Entrepreneur's Odyssey.
"All students have benefited from learning how to seek and empathise with real world problems, take on feedback in order to reideate and prototype a viable solution, and create the space to work deeply on a problem that they hold tightly.
"Our Primary School community is proud to support our students who participated in the Activate Semi Finals and have progressed to the National Grand Finals in November.
"It's clear that our students are developing a sense of service to others as they design solutions for the greater good, which is positive for their academic attainment and their character development."
STUDENT RECOUNT OF THE ACTIVATE SEMI FINALS CONTEST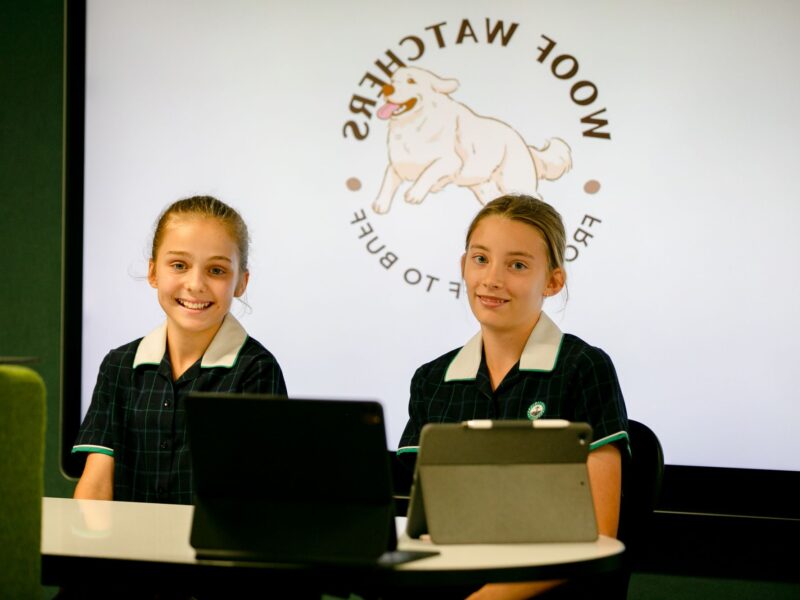 Milly Sheridan in Year 6 provided the following recount of her and team mate Adele Larsen's experience presenting their business idea, Woof Watchers, in the Activate Semi Finals event on 24 October 2023.
"Nervous excitement hung in the air as we were about to pitch our innovative idea to a panel of judges and other businesses. We had spent countless hours preparing our presentation, pouring our heart and soul into the product.With nerves tingling and excitement bubbling within us, we meticulously rehearsed our presentation, ensuring every detail was perfect.
"Our product, Woof Watchers, a personalised dog weight loss program, had the potential to change the world for the better. We were determined to make a lasting impression on the judges and leave them in awe of our creation. As the first pitching heat concluded, we found ourselves consumed by a whirlwind of emotions. Doubts crept in, but we reminded each other of our shared vision and the countless hours we had dedicated to our business. We knew we had something special, and it was time to showcase it to the world.
"With our hearts pounding, we entered the Zoom filled with anticipation. The atmosphere crackled with energy as we observed the other businesses, each with their unique ideas and aspirations. When our turn finally came, we took a deep breath and revealed ourselves on the Zoom call. The judges' eyes were fixed on us, their expressions a mix of curiosity and expectation.
"We began our presentation, pouring our passion into every word, and unveiling our innovative product with pride. As we spoke, we could feel the room come alive with excitement. The judges leaned forward, captivated by our vision and the potential impact our product could have on society. We answered their questions with confidence, aiming to showcase our deep understanding of the market and our commitment to our business. When our time was concluded, we exchanged glances, a mix of relief and hope in our eyes. The judges thanked us for our presentation, and we exited the call, our hearts pounding with anticipation. Then, all we could do was wait for the judges' decision and people's vote, hoping that our hard work and dedication had paid off.
"Nicole's face flickered back onto the screen. Runners up, Wildcard or semi-final champion. We didn't care! Our dying desperation to progress into the Future Anything Grand Final was almost tangible! "Our Semi Final National runners up is…. Woof Watchers!" Applause, cheers and chants erupted from the Year six classrooms, creating an atmosphere of positivity and motivation. The cheers continued when Nicole announced that we had won the People's Vote too! We embraced the warmth of our classmates' cheers, reminding everyone that our success wasn't just an individual achievement, but a collective celebration." 
END.