Twelve Senior School students from Matthew Flinders Anglican College rolled up their sleeves for a "backyard blitz" in Buderim on Saturday, 5 August to kick-off the first Bloomhill Student Ambassador Action Day.
The student ambassadors spent a productive morning painting fences, mowing lawns, pruning trees, repairing fences, power washing and even painting an internal wall to clean-up the backyard of a Bloomhill Cancer Care patient.
The students have been meeting regularly for the past 12 months and the Action Day saw their first student-led initiative to help people in meaningful ways in their local community.
They were joined by six students from Sunshine Coast Grammar School, and their collective efforts highlight the importance of volunteering as schools across the country celebrate National Student Volunteer Week 2023 (7-13 August) to acknowledge and celebrate student volunteers, and promote volunteering to young people.
Established 25 years ago, Bloomhill Cancer Care is a local community-based integrative cancer care centre, providing compassionate care for people of all ages on the Sunshine Coast impacted by cancer.
The Bloomhill patient had just finished her 20th week of chemotherapy and was in recovery from a major surgery. And while her family's focus was on supporting her recovery and keeping the inside of her home clean and pathogen-free to protect her, the yard had not had the same attention.
Upon seeing the students' sensational clean-up efforts, the homeowner said, "It provides a real boost, just to be able to look out and see everything in order and know that I can focus on getting myself better and spending time with my family."
Jessica in Year 11 at Flinders was part of the clean-up team and said it was a "wonderful experience" and a great opportunity to get out in the community and help others.
"It was really cool to be able to see the impact of our actions, especially once we heard the homeowner's story and learned of her struggles," Jessica said.
"We had fun getting hands-on and working together with our friends and students from other schools, and the thought of making a difference brightened our mood for the whole day!"
Kayla in Year 11 at Flinders said, "I loved that we were able to speak to the lady we were helping and hear from her as we worked together.
"By everyone putting in the effort and helping out, it showed how many hands could get such a big job done in a short time," she said.
"I also felt that getting together as a cohort brought some of us closer together to bond during that time, and I can't wait to get involved in more of these opportunities."
Flinders Head of Senior School Mr Gary Davis said he was proud of the way the students organised themselves and committed to the tasks for the good of others.
"At Flinders, we want our students to learn the power they have to initiate projects that have a positive impact in the world, whether locally or globally, and this project was a great start.
"The future of the Bloomhill Student Ambassador program looks bright, with more activities planned," Mr Davis said.
"There is also the hope to seek donations and raise funds to provide a lockable trailer and further supplies to ensure more work can be offered through this worthwhile project."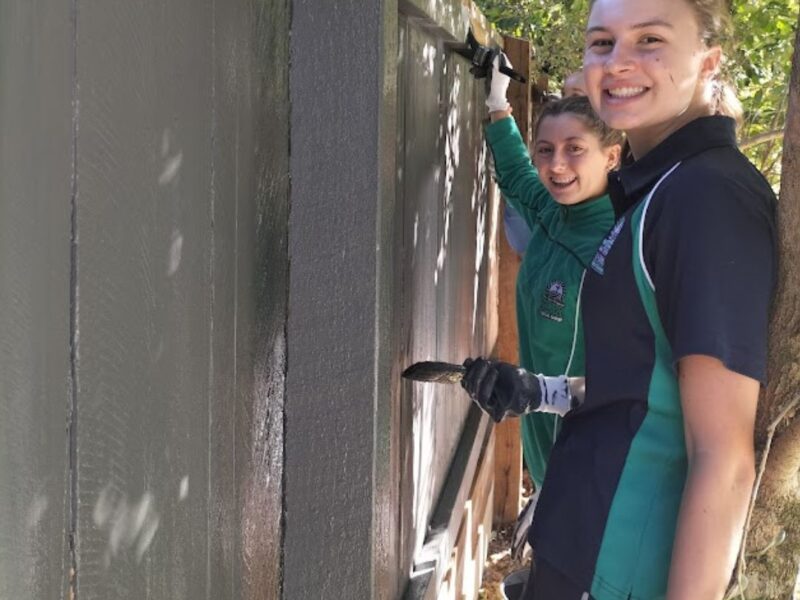 The following Flinders Senior School students were involved in this project: Tara M, Meghan N, Samantha L, Jessica C, Hannah J, Pippi W, Beth P, Sydney E, Charlii C, Kayla W, Doug M and Claire McC.