Year 11 student from Matthew Flinders Anglican College, Doug Massey has put his software skills to the test, creating a game-based app for mobile devices. 
An easy-to-play app, SpinningSmash allows the user to have experiences of quick and satisfying success while also having noncommittal aspects like limitless plays and immediate new games to keep a person coming back to play it.
A product of Doug's creation, the game design and user interface were developed "for the experience of developing it".
"What I enjoyed most about the process was coming up with an idea for how I want to do something, starting to work on it, and then realising that another way of doing it would actually be much better," Doug said.
"I was learning a lot as I went and was still figuring out what is and isn't possible, so whilst the end result is quite different from how I had imagined it, I'm very pleased with it," he said.
SpinningSmash is a single-player game, meant for short periods of entertainment, like most app games today.
When asked about the intention for the mobile app game, Doug explained how much of it is based on the user.
"The main challenge for the game is to beat your own high score," he said.
Courses Offered at the College for Aspiring App Creators
Doug took part in a game development course at Flinders as part of his Year 9 subject selection, which he attributes to setting the foundations for his "passion".
"I really enjoyed my Year 9 game development course, and I think that's probably one of the things that solidified that passion for me," Doug said.
"Building on the skills I learned in that course, developing this app has affirmed for me that this is something I want to take to the next level and make a career out of in the future," he said.
The Year 9 game development course allows students to begin thinking about programming, using specific software that contains all the elements necessary to create their own game.
As part of the course, students learn about variables, modulisation, selection and conditional branching and iteration.
Students analyse existing games on multiple platforms, consider the psychology of gaming and develop games in 2D and 3D.
As part of the process, Doug was supported by Flinders IT Support Officer, Mr Nathan Waters in the publishing of the app.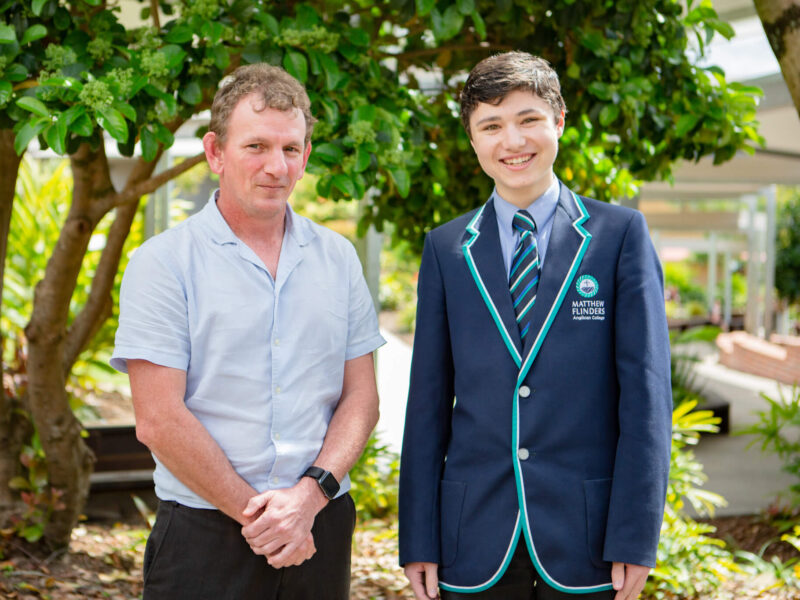 "Mr Waters helped me a lot with the publishing of the app," Doug said.
"His assistance not only helped with the technical side of the publishing, but motivated me to see the project through," he said.
Mr Waters said that Doug's journey to becoming a published app creator had been "exciting to watch".
"It was great to see the way Doug handled challenges as they arose," Mr Waters said.
"Doug's energy became infectious, his determination to see this through also allowed me to challenge my knowledge and expand my skills," Mr Waters said.
In terms of how successful the app will be, Doug's primary goal is "for the users to enjoy themselves".
"The app is intended to be a fun way to fill time, and that is what I hope users are able to get out of it," Doug said.
The nature of the game makes this point clear. Anybody can pick it up and play, no matter where you are or what skill level you have.
Doug now sets his sights on creating "more games", with plans to prioritise his schooling whilst furthering his skills in animation so that future iterations can continue to improve.
SpinningSmash is available for purchase and can be downloaded via the Apple Store.