The creative arts is thriving at Matthew Flinders Anglican College, with five theatre productions presented across the school year and students receiving top-class mentoring from artists in residence, including Warwick Doddrell, assistant director at Opera Australia.  
It's all part of the growing Flinders Creative Arts co-curricular program, which is open to students with a passion for the arts.
The program is also facilitating a visit to Perth for a group of Senior School students who will present at schools and work with mentors at the acclaimed Western Australian Academy of Performing Arts (WAAPA).
And in the Flinders Primary School a fledgling co-curricular youth theatre is catering for talented creative arts students in Years 5 and 6.
Upcoming shows on at Flinders include the play Scattered Lives, presented by Senior School students from 25 to 27 July. The play is written by Australian author Sally McKenzie as a performance of true stories shared by refugees, who give an insight into the profound experience of what it is to seek refuge.
And in Term 3 students in Year 7 will present a production featuring stories from the Grimms' Fairy Tales.
There is also the pantomime Silly Cinderella, which will embrace the challenge to be creatively developed over just one weekend and presented in the open air on the Flinders Chapel lawn on Sunday, 21 August.
The College has also introduced a new dance development program across Years 7 to 12 with more than 20 students exploring a range of dance styles, including lyrical, jazz and contemporary. 
Mr Danny Parker, Director of Flinders Creative Arts
Leading the co-curricular program is the Director of Creative Arts, Mr Danny Parker, a teacher, actor and award-winning children's author.
"It's exciting to see our Flinders Creative Arts gaining momentum," Mr Parker said.
"Each term, more students are choosing to step well beyond their comfort zones to learn new skills, build self-confidence and have fun," he said.
"The College's vision is to offer our students fresh and ongoing co-curricular opportunities to explore the creative arts through rehearsals, workshops, creative developments and performances," he said.
"Students are embracing the chance to act, sing, dance, play music and learn behind the scenes through lighting design, stage direction and making sets and costumes," he said.
"And we're all in for a treat in Term 3 when Opera Australia's Warwick Doddrell visits to assist with creative development on a new play based on the life of Ned Kelly.
"We are also welcoming leading Australian fight director and choreographer Andy Fraser back to campus for his annual residency to weave his magic with our students in Drama class and beyond the classroom."
Flinders has three theatre venues on campus, which gives students valuable rehearsal and performance experience on stages of different sizes that demand unique skills and approaches, from the 600-seat main stage Performance Centre venue to the 120-seat traditional Drama Theatre and intimate Experimental Theatre.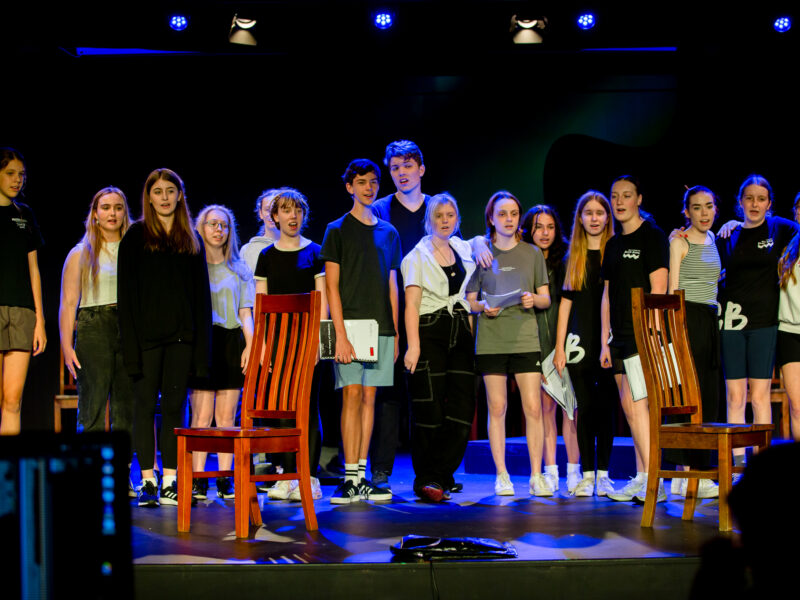 Completed Shows at Flinders in 2022 – A Wrap-Up
So far this year the Flinders Creative Arts program has enjoyed two sold-out shows, including the Senior School musical The Theory of Relativity where 28 young musicians, actors and technicians presented in the College's 120-seat Drama Theatre from 3 to 5 May.
Mr Parker said, "Each actor in The Theory of Relativity spent some time centre stage and the sense of ensemble and collaboration was palpable.
"Also live on stage our student musicians excelled and there was expert technical direction of more than 700 individual lighting and video cues throughout the show," he said.
Middle School students also dazzled capacity audiences, with a cast and crew of 29 presenting Shakespeare's A Midsummer Night's Dream from 23 to 25 May.
The Years 8 and 9 students immersed themselves in Elizabethan verse and – with a feast of umbrellas, a few pairs of pyjamas and the occasional pair of fairy wings – brought this popular tale to life.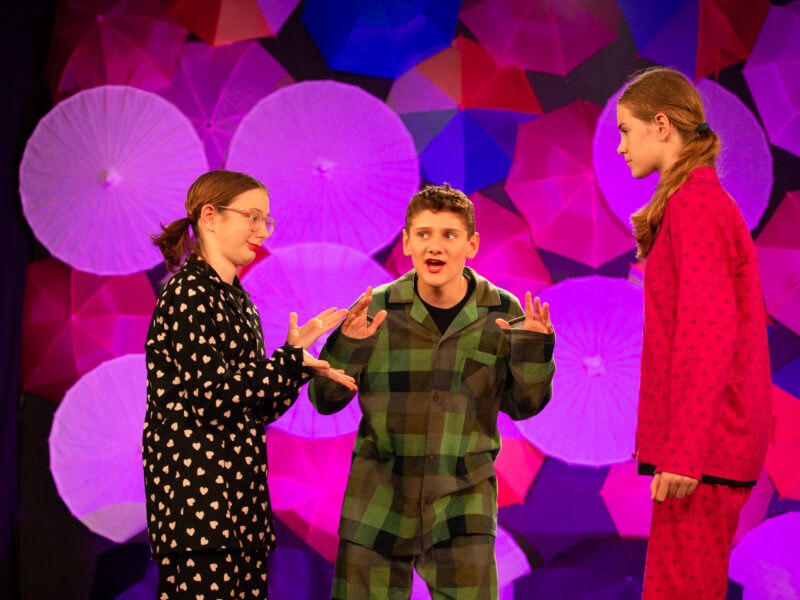 Upcoming Creative Arts Productions at Matthew Flinders Anglican College in 2022
• Scattered Lives, Senior School play, 25 - 27 July
• Grimms' Fairy Tales production presented by Year 7 students, Term 3
• Silly Cinderella, Pantomime, Sunday, 21 August
Year 6 Musical Production as part of the school curriculum, Seussical Jr.
Completed Productions, 2022
• The Theory of Relativity, Senior School Production, 3 to 5 May
• A Midsummer Night's Dream, Middle School Production, 23 to 25 May