Flinders students had the opportunity to view one of only twenty all-new zero-emission Toyota Mirai sedans in Australia.
Principal and Director of Ken Mills Toyota, Brett Mills, came to the College to introduce the second generation of the Mirai to students.
Members of the Flinders Electric Vehicle (EV) Project team, Mr Ed Wright (Head of Learning & Innovation) and Mr Brendon Gallaher (Secondary Teacher - Engineering and Design Technology) were joined by students who were involved in the project and the current Year 11 Engineering class.
The vehicle viewing served as a real-world learning experience for students, providing an opportunity to engage with Toyota's Government Fleet Manager, Peter Walker.
Toyota's drive to find zero and low emission alternatives to diesel and gasoline stems from a plan to reduce the environmental footprint of road-based transportation, says Peter.
"The Mirai is a huge step towards our goal of achieving zero emission mobility by 2050," says Peter.
Students interacted with Peter as he explained the process of the vehicle, allowing them to gain a deeper insight into the hydrogen-powered future.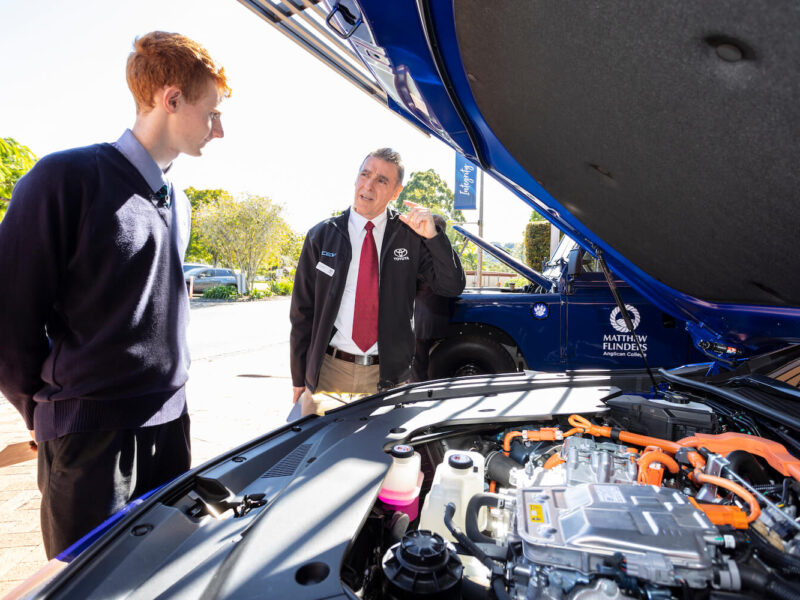 Year 10 student, Henri Everson who played a pivotal role in the initial design and construction of the Flinders EV Project was particularly impressed by the Mirai.
"Working on the eBeast made me understand the importance of lowering our carbon footprint and reducing harmful exhaust emissions on the road," says Henri.
"It is amazing to see the Mirai up close and witness it in action, and makes me very excited to see what is to come for the automotive industry."
The Flinders EV Project began in October 2020 with the students stripping the vehicle to remove its roof, doors and all other body panels, the fuel tank, fuel lines and exhaust system, all in preparation for the vehicle's EV conversion.
With the support of Gold Sponsor, Ken Mills Toyota, the Flinders Design & Technologies Department took the project under its wing. This enabled Senior School students to work on the vehicle on a regular basis, guided by their teachers and industry experts.
You can learn more about the project and see the vehicle's transformation here.