Year 10 student Henri Everson at Matthew Flinders Anglican College on the Sunshine Coast has single-handedly created a DMX projector shutter with 3D printing.
Henri designed and assembled the fully functioning projector shutter, creating a ​​motor-driven flap which can be mounted on top of a projector to control stage lighting and instantly make a stage space dark by shutting out the projector light.
The shutter tool helps the College's technical crew change to new light cues quickly and smoothly during live theatre and musical productions.
The creative process took Henri three weeks to complete wherein he sourced the parts required for the project, utilised the College's laser cutter and engineered the final product using the classroom 3D printer.
Henri explains the impetus to his prototype was his experience in the technical backstage crew for Flinders' Creative Arts productions and also the new Flinders Theatre Tech Club, both offered as part of the College's co-curricular program. 
"During our school productions, there are times when we need a complete blackout in an instant, so I started researching projector shutters," Henri said.
"Projector shutters can retail in excess of $500 and I thought, 'I could make that myself!' so I decided to replicate the features of a model I found online and build my very own," he said.
"The parts cost me around $50 and with the support of my teachers, I was able to cut the frame for the shutter on campus and digitally code the shutter."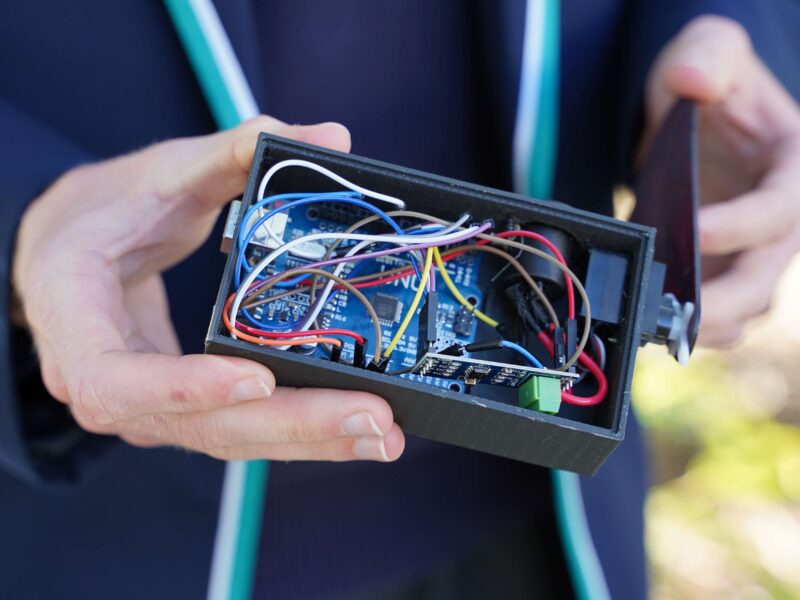 Henri's projector shutter made its debut at the recent Senior School production of Scattered Lives.
Next for students in the Flinders Creative Arts program is the pop-up pantomime Silly Cinderella featuring students from Years 9 to 12 on Sunday, 21 August and the staging of the Year 7 Production of A Few Grimm Tales from 5-7 September in the Flinders Drama Theatre.
And the Primary School's entire Year 6 cohort of students will present Seussical JR. from 31 August-1 September, where Dr. Seuss' best-loved characters collide and cavort in an unforgettable show.
Developing Theatre Tech Skills Through the Flinders Creative Arts
An integral part of the College's technical crew, Henri has been involved in the Flinders Creative Arts program since the Secondary School's production of Legally Blonde in 2021.
He also recently joined the new Flinders Theatre Tech Club, a co-curricular opportunity for tech-minded students from Years 7 to 12 to learn a range of technical theatre, behind-the-scenes and theatre safety skills.
15 Theatre Tech Club students meet weekly at lunchtime and commit to taking on technical jobs that support Creative Arts productions and other events, such as assemblies and Drama events.
Students are guided by the Flinders Head of Department for Drama, Ms Charlene McMenamin and Technical Co-ordinator, Mr Brendon West who has more than 30 years' experience in technical backstage direction, working on mainstage and boutique touring shows in Australia and internationally and on numerous Olympic ceremonies since Sydney 2000.
Mr West said that Henri's technical theatre journey had been "so exciting to watch and be a part of."
"Henri is a pleasure to work with and teach, and I know that he will go far in this world," Mr West said.
"Self-starting projects, such as the DMX controlled shutter, are quickly becoming Henri's trademark, if you will. He sees an issue and is immediately trying to solve the problem.
"We are thrilled to have him and other keen students in the new Theatre Tech Club."
Henri hopes to continue improving the shutter's capabilities, with plans to engineer another version that can be controlled over a network for increased accuracy.