Primary School students and staff were fascinated to watch Sunshine Coast artist Shane Christensen in action as he carved a giant cockatoo sculpture from an old wooden log at Matthew Flinders Anglican College's Outdoor Classroom last week.
Standing at a height of 1.5 metres, the sculpture is taller than most of the Primary students and is an awe-inspiring way to encourage awareness of the Glossy Black Cockatoo (Calyptorhynchus lathami), which is listed as a vulnerable species in Queensland.
Over five days, Shane worked as a Flinders Artist in Residence to create the sculpture in collaboration with local artist Jandamarra Cadd and Year 4 students.
The project was initiated through the Year 4 students' i-Impact design thinking curriculum in 2022, which challenged them with the provocation: How can our local Indigenous culture be acknowledged and valued on our Flinders campus?
The cockatoo can be spotted in the rainforest and surrounds of the Flinders campus and so the students wanted to play a role in highlighting the significance of this bird to local Indigenous culture.
Shane uses chainsaws, wood shaping power tools and spray paint to craft and design log sculptures into various larger-than-life-size animals.
His art practice combines art and conservation, as he strives to educate people about how they can preserve and interact with fragile ecosystems.
For the College's log sculpture, Shane rescued an old Tallowwood tree that was destined for firewood, and installed a box of stingless native bees, which can be excellent pollinators.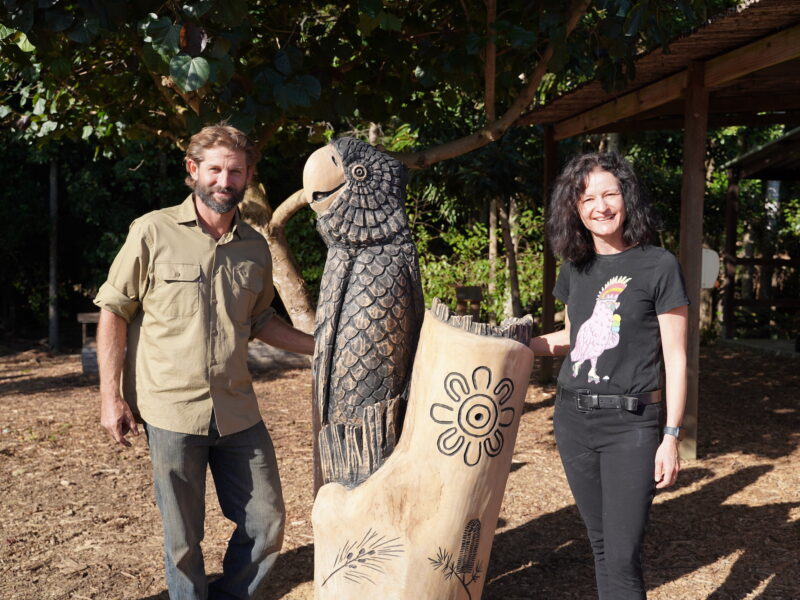 Shane said, "The design painted on the sculpture symbolises the meeting of Indigenous and non Indigenous cultures - sitting together, sharing together.
"And we have also incorporated into the design drawings of the Hairpin Honeysuckle (Banksia spinulosa) as artist and Traditional Custodian Lyndon Davis from Gubbi Gubbi Dance shared the place name 'Buderim' is a traditional name for this plant species."
The art work will be installed in the Primary School campus.
Involved in the project while in Year 4 last year, student Hannah Walker, now in Year 5, enjoyed visiting the Flinders Outdoor Classroom to watch the art piece take shape.
"The sculpture looks absolutely amazing and it was fascinating to watch the artist using so many different tools with such precision," Hannah said.
"It will be a truly beautiful artwork for us all to enjoy on our campus," she said.
Also in Year 5, Will McHugh said, "I also love that the artist has carved holes in the artwork for native bees, so they can make their habitat in the sculpture right here on campus."
The sculpture will be added to Flinders' art collection, which includes outdoor murals and art pieces by local and Australian artists, including Jandamarra Cadd, Claire Matthews (also known as 'Fuzeillear'), Joel Moore (also known as Mulga) and David Houghton.
Shane has travelled the world and crafted sculptures all over Australia, including his largest piece - a giant Indigenous warrior installed at Griffith University on the Gold Coast, which weighed in at a massive 350kg of hardwood and also became home to native bees. 
Caption (L-R): Flinders Year 5 students Hannah and Will with artist Shane Christensen, Primary Art Teacher, Mrs Emma Ferris and Head of Learning and Teaching, Primary, Mrs Debbie Planck