Student pencil cases have become art canvases at Matthew Flinders Anglican College on the Sunshine Coast through a collaboration between Primary School students and award-winning First Nations artist Jandamarra Cadd, a Yorta Yorta and Dja Dja Warung descendent.
The project was driven by the Flinders Year 4 students as part of their i-Impact design thinking curriculum to learn skills to develop as problem seekers and problem solvers of real world issues.
Design thinking is embedded in the Flinders curriculum, with all students from Prep to Year 6 learning the five-step process of Empathise > Define > Ideate > Prototype > Test.
The curriculum's aim is to support a spirit of entrepreneurialism and social justice so that students can make a positive impact in the world.
Head of Learning and Teaching in the Primary School, Mrs Debbie Planck said the unit invited students to find a way to acknowledge, celebrate and value local Indigenous culture on the College campus.
"For this i-Impact unit, our Year 4s proudly discovered a respectful, culturally sensitive, practical, affordable, creative and joyful way to understand and value the local Indigenous culture at Flinders," Debbie said.
"Using the design thinking process, the students ideated many ways to acknowledge and celebrate our local indigenous culture with the pencil cases gaining support to take to 'market'," she said.
"Every child from Year 3 to Year 6 was provided with the pencil case in their Flinders Primary stationery pack this year.
"The students identified an opportunity to take the plain pencil cases and print meaningful artwork onto them, with the art created as a student collaboration with First Nations artist Jandamarra.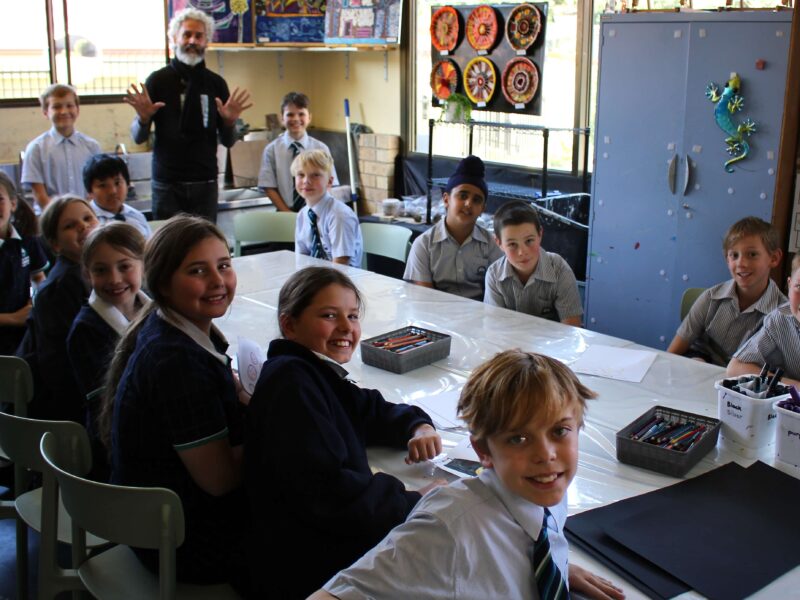 "The positive outcome is that we now have beautiful custom-designed pencil cases that recognise local Indigenous culture. Our students carry them with them daily and enjoy it as part of their learning.
"The artwork on the pencil cases is significant to our Flinders community, as it encompasses Kabi Kabi/Gubbi Gubbi landmarks, the journey of First Nations Peoples as well as some personal reflection from our students about their own sense of place on the College campus and in the Sunshine Coast region.
"Such an outcome also empowers our students to know they have agency in bringing their entrepreneurial ideas to life."
Step by step: How students followed the i-Impact design thinking process to value local Indigenous culture at Flinders
The i-Impact learning unit began with Year 4 students working in groups to empathise with and define why it was important to acknowledge, celebrate and value local Indigenous culture on the College campus.
With this understanding, they began ideating solutions and designing prototypes.

Each student group then presented their ideas and prototypes to their Year 4 cohort in an expo-style setting, with the ideas tested or judged by a committee.
The committee included the two Flinders Primary Leaders, Reverend Kathrin Koning and the Year 12 Leaders of the Reconciliation Action Plan Group.
The ideas were judged through the following criteria:
Solves the problem: Does it meet the needs of the user?
Innovative: Is it different or better?
Doable: Is it practical?
Cost/Benefit: Does the benefit outweigh the cost?
The winning idea was for an artwork to be designed as a wrap for students' pencil cases.
A select group of students was then invited to a workshop with Jandamarra to create the artwork in Term 4, 2022.
Debbie said, "Jandamarra is an inspiring storyteller and educator who shares stories and encourages the students to apply what they learn in the classroom to real world contexts.
"The students were delighted to work alongside him and learn from him!
"The College is grateful to Jandamarra for his support, his thoughtful guidance and for the ways in which he shares his incredible insight with our students, allowing them to deepen their understanding of connections to place and Country."
The cost of producing the pencil cases was undertaken, with students benefiting from understanding project management and the process of taking an idea to market
Previous art project at Flinders through the i-Impact design curriculum
Jandamarra also created an artwork with Flinders Primary students in 2021, which is now at home on a wall of the Flinders Flagship Centre, the new masterplanned learning precinct for the Years 5 and 6 students.
The students worked directly onto a canvas using acrylic paint, which Jandamarra complemented with his own unique layering style.
The artwork symbolises students' commitment to honouring, acknowledging and respecting Buderim's First Nations Peoples as the traditional custodians of this land.