In this Q&A profile, we invite Ms Charlene McMenamin to share more about her role as Head of Drama at Flinders, and the skills and vision she enjoys bringing to our College community.
We are sure you will agree – it's a fascinating read! Thank you, Charlene!
Drama and the creative arts at Flinders are nurtured through our Primary and Secondary curriculum as well as diverse co-curricular opportunities.
The study of Drama enables our students to grow in so many ways - helping to build self-confidence and become deeper critical and creative thinkers, and stronger communicators.
Charlene, why do you choose to teach Drama?
I am passionate about arts education. I believe that learning in Drama not only sets young people up to be actors, audience or theatre-makers, but also lays the foundations for them to become the better doctors, the better lawyers, the better engineers, the better social justice advocates, the better teachers, the better leaders, the better change-makers, and the best humans they can be.
That's because storytelling and story making through Drama is about exploring what it means to be human, including investigating perspectives other than your own. Critical and creative thinking in Drama demands high-order metacognition and connecting ideas in intelligent and meaningful ways. And, of course, Drama is collaborative, builds confidence and is just fun! Drama students become people who make a difference in the world.
I hope to empower my students with confidence about what they are learning and how it makes meaning; what thinking and actions are required of them for any given task or activity; and how to interpret their marking guides. I make it my mission to know what I am asking my students to do and why, including updating my curriculum knowledge continuously, so I can share this clarity and intention with them.
Drama makes a difference to students and creates excellence, and I love being a teacher who can offer that experience to learners at Flinders.
What are some recent projects you're contributed to the College?
In 2022 I co-founded the Flinders Theatre Tech Club co-curricular opportunity with Mr Brendon West. Brendon's amazing breadth and depth of experience working backstage at professional venues and high-calibre events provides so much opportunity for students at Flinders to learn skills that are applicable in real-life jobs and theatres. I'm really enjoying learning more about theatre tech alongside the students, and helping to facilitate the Club so that we can enable students to develop their expertise across their years at Flinders.
In my role as Head of Drama, I'm keen to keep building the Flinders Drama tribe! Just within the last year, we've been able to create a Flinders Drama logo (which can be seen on stickers and the Year 12 Drama black t-shirts - see photo below) and we've also been immortalised in the Drama Precinct hallway, with posters of curriculum Drama students and performances taking pride of place alongside Flinders Creative Arts production posters.
I love seeing these visible signs that Drama is an active and important part of our College community.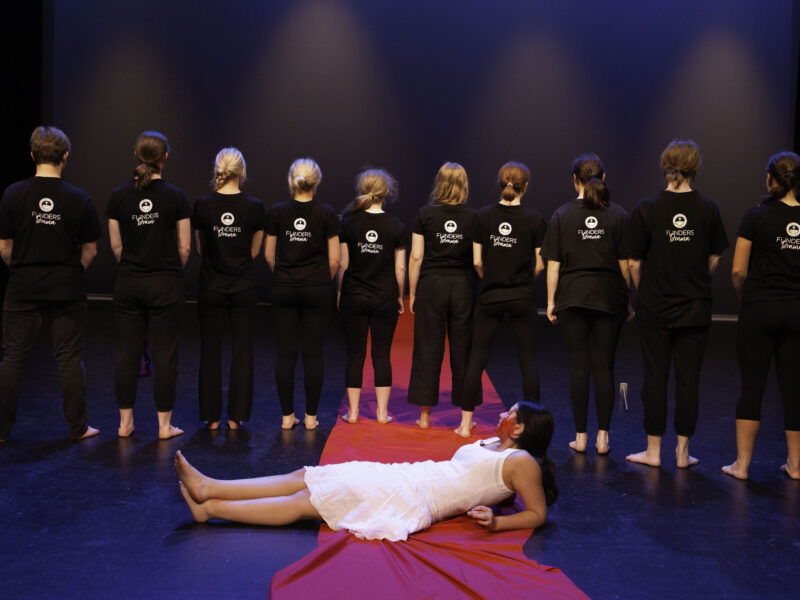 Please share a bit about your background.
When I was born, my parents were living and teaching in Aboriginal communities in the Northern Territory, and as a little girl I grew up in the Yolngu nations of north east Arnhem Land. When my younger sister was born, my parents asked the Yunupingu family for permission to use a family name, Djalinda.
I have an Aboriginal nickname, Dunuyunu, that I was given when I was a baby. In Reconciliation Week each year I like to wear this name on a name badge, and it often sparks conversations with students and others around the school about reconciliation and what it means to me.
The Yolngu people and Yunupingu family have a strong presence in Australian culture, especially musically, such as the Garma Festival, Yothu Yindi, Baker Boy (Young Australian of the Year 2019) and King Stingray (who took out four places in the 2022 Triple J Hottest 100).
I'm incredibly proud of my family connection to the Yolngu nations, and always excited when people, places, language and events from Yolngu lands are celebrated. Although there are a lot of political, historical and social aspects to reconciliation, to me this is how reconciliation is lived in an everyday way – through honouring, celebrating and being curious about both First Nations and non-Aboriginal cultures. It's an issue very close to my heart, and one of the reasons I have joined the Reconciliation Action Plan (RAP) Committee at Flinders.
What have you enjoyed about your career?
I have taught in 13 schools across Queensland and the UK. This has enriched my teaching, engaging me with a variety of communities and students, as well as different curriculums and teaching programs. I've learned to consider who my students are and how they approach learning when designing tasks and activities. I'm not afraid to adapt or completely change from the way I've done things before, and I'm always looking for ways to make learning more interesting, innovative and meaningful.
Prior to moving to the Sunshine Coast, I was at Lourdes Hill College in Brisbane for 8.5 years, where I developed and led the Transition Program for the whole Year 10 cohort.
As well as being a teacher, I've had jobs as diverse as Executive Assistant to the CEO of a nationwide job services provider, and Night Auditor at a ski resort (working 11pm through until 7am, 6 nights a week!).
However, I am certain I was born to be a Drama teacher.
What do you love about living on the Sunshine Coast?
I moved to the Sunshine Coast at the start of 2021. This year I'm pleased to say I'm in the habit of getting up in time (most days) for a walk along the esplanade to watch the sunrise over the sea. I love it!
What are your hobbies on the Sunshine Coast?
The number one thing I had to do before starting to look for a job and somewhere to live on the Sunshine Coast, was to make sure I could train here in circus aerials. I've been doing circus aerials since 2007, training at both Circa's studios (in the Judith Wright Centre) and Vulcana Women's Circus (previously at the Brisbane Powerhouse). I've mostly specialised in Tissu/aerial silks, although I've been learning a lot more skills on Lyra since starting at Absolute Aerials in Coolum. I cannot recommend aerials highly enough – it's awesome!
Why do you love being a part of a school community?
I enjoy being part of a community brought together by a mission for meaningful education. When students, teachers and parents all value education, it creates a thriving culture of learning.
One of my favourite things about being a teacher at Flinders is the support and encouragement we receive to continue to learn and hone our skills through professional development.
I also enjoy the enthusiasm with which the Flinders community embraces performing arts and the Creative Arts program. I was blown away at my first Flinders assembly by the Wind Symphony, all the way through to this year's College musical, Anastasia (photo below).
It brings me joy to be part of a school community so strongly connected through celebrating performing arts.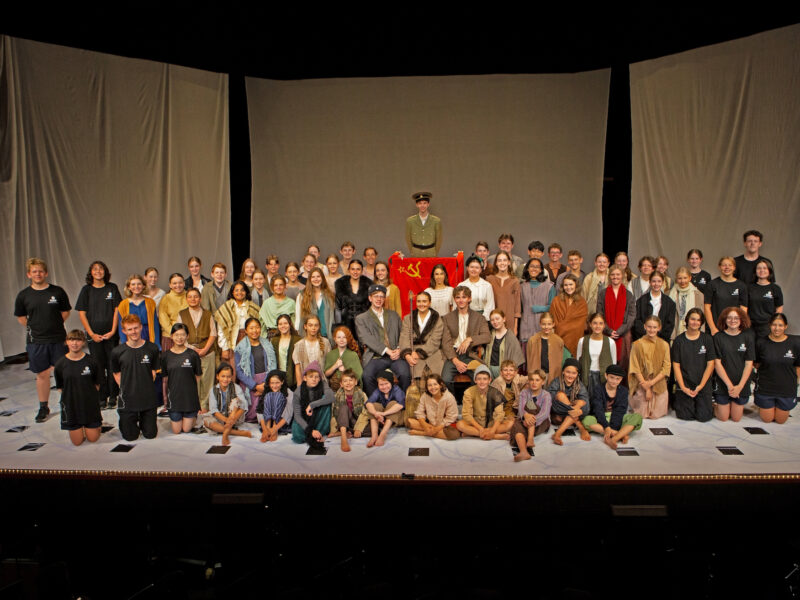 What is the best piece of advice you have ever received?
Learning about Brene Brown's research into vulnerability: "Vulnerability is what we are looking for in other people, to make a connection, but the last thing we are willing to show. In you, it's courage and daring. In me, it's a weakness."
This advice came from a course called "Daring Greatly", based on the research and ideas of Brene Brown. I try to use this to get past the 'not good enoughs' that we sometimes think about ourselves, and to not use judgement or blame against others. It reminds me to be real, messy, awesome, imperfect and keep learning, growing and evolving, and to value the same in others.
Making honest, authentic connections with others is what, I think, life is all about.
Thank you, Charlene, for sharing your story!