Twenty-five drama enthusiasts presented the first Year 7 theatre production for Matthew Flinders Anglican College with A Few Grimm Tales opening at 7pm last night, Monday, 5 September and also showing on Tuesday, 6 September and Wednesday, 7 September.
Tickets are still available via this TryBooking link.
It was also a first for the College's professional Drama Theatre – transformed into a picnic spot as audiences were invited to bring rugs and settle in for an interactive theatre experience.
The atmosphere was warm and supportive as students took the audience on a fascinating journey of seven lesser-known Grimms' fairy tales.
The cast of 25 students in Year 7 and two stage managers in Year 9 in the Secondary School chose to join the production as part of the extensive Flinders Creative Arts Co-Curricular Program.
The ensemble committed to an intensive after-school rehearsal schedule twice a week over a three-month period, guided by the College's passionate Creative Arts team, Director, Mr Danny Parker and Co-ordinator, Miss Sarah Sullivan as well as Technical Co-ordinator Mr Brendon West.
Mr Danny Parker said the show was a project performance learning opportunity where the focus has been on students' learning, creative development and personal growth.
Danny said, "Through this project, we wanted our Year 7 students with a passion for the creative arts to work together and dive deep to explore the questions:
'How do we tell a story?' and 'How much or indeed how little do we really need to communicate with an audience?'
"To answer these questions, the Year 7 Project went on an exploration of the ensemble, focusing on trusting one another and taking on the role of storytelling," he said.
"After all, the study of Drama is all about standing up, looking up and speaking up, providing students with the platform from which to learn all about the world of theatre.
"This Year 7 Project has focused on the journey rather than the final destination, creating the foundations for future performance.
"A troupe of performers, a blank canvas for a stage and some friends in the crowd to enjoy the occasion.
"We are so glad our community is joining us on this journey through A Few Grimm Tales."
Backstage, Maeve Robinson (Stage Manager) and Lucy McBride (Deputy Stage Manager) in Year 9 were mentored in overseeing the show's running, attending all rehearsals through to the performances.
The girls are part of a new Creative Arts co-curricular offering, the Flinders Theatre Tech Club, which meets on Friday lunchtimes to learn the art of technical theatre from Head of Drama, Ms Charlene McMenamin and Technical Co-ordinator, Mr Brendon West.
Danny said that Year 7 – as the start of Secondary School and Middle School at Flinders – was the perfect time for joining co-curricular clubs.
Every student in Year 6 at Flinders Primary School is involved in rehearsing for and staging a musical production together as part of the core curriculum. Last year the Year 6 students presented The Little Mermaid JR. and this year's Year 6s presented the Seussical JR.
"In Year 7 we have the majority of students transitioning from our Primary School and also a large group of new students joining our College," Danny said.
"Co-curricular opportunities – like the one we've been on as an ensemble over three months with A Few Grimm Tales – give our students with a shared passion the opportunity to collaborate and support each other as they try something new and challenging," he said.
"Along the way, they build relationships, adapt to increased responsibility, learn new creative skills and develop confidence, resilience and self-autonomy."
Book your tickets
A Few Grimm Tales is a 45-minute show at 7pm over three evenings in the Flinders Drama Theatre on Monday, 5 September, Tuesday, 6 September and Wednesday, 7 September.
Tickets are $10 per person and can be purchased via https://www.trybooking.com/CBTBI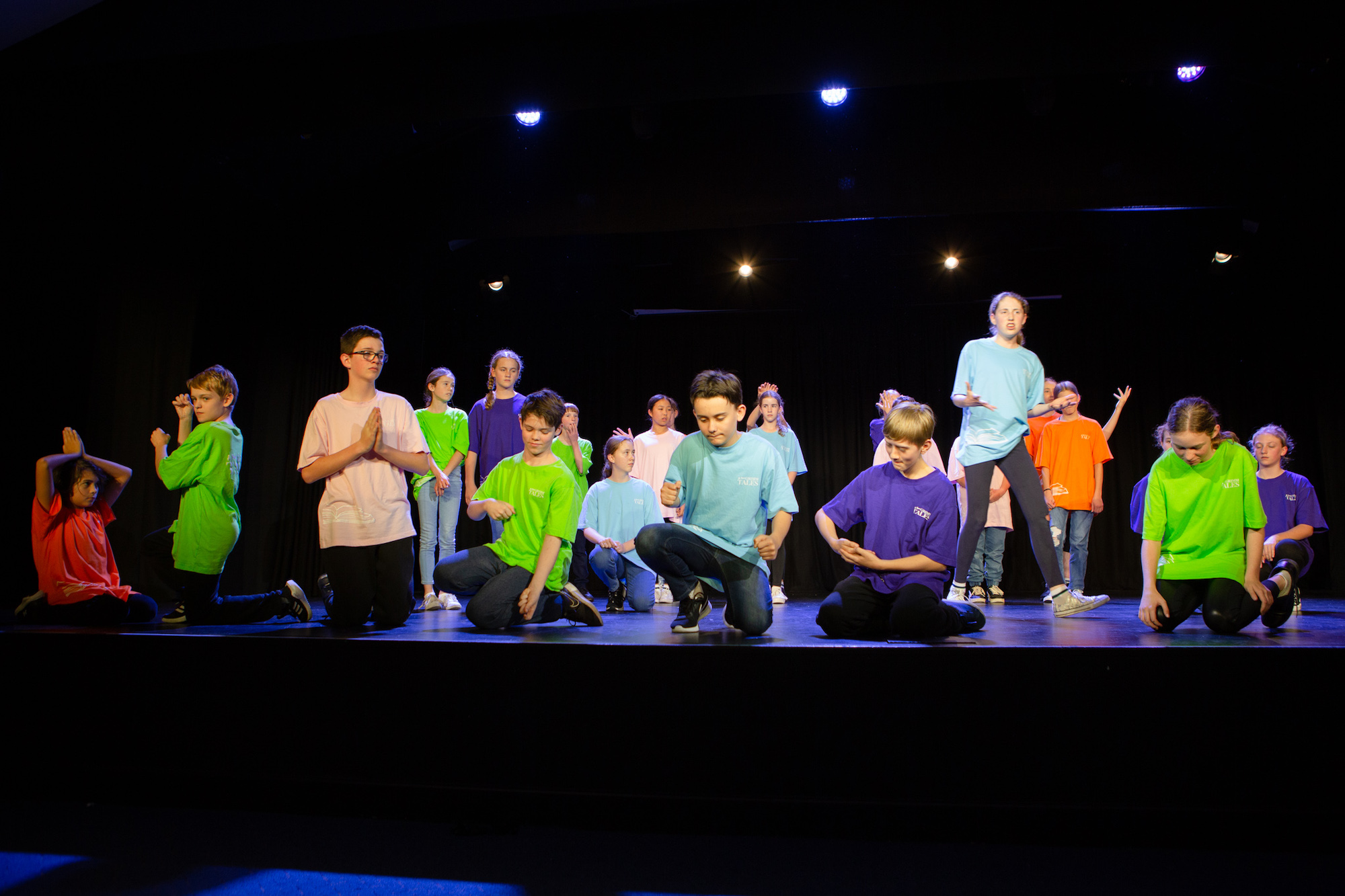 About the Grimm Brothers' Fairy Tale Classics
Two hundred years ago, two young German librarians by the names of Jacob and Wilhelm Grimm published a collection of tales that would become one of the most influential works of folklore in Germany, Europe, and eventually the world.
Between 1812 and 1857, seven editions of their tales appeared, each one different from the last, until the final, best-known version barely resembled the first. The first edition has recently been honoured in bicentenary celebrations throughout the world.
Learn more here.