Along with being a trumpet player, music scholar, busker and soccer player, Liam Booth in Year 8 at Matthew Flinders Anglican College on the Sunshine Coast can now add 'composer' to his list of hobbies.
Liam's first composition, 'The River Nile' had its world premiere recently, on Saturday, 22 April, with Liam invited to perform the piece's trumpet cadenza alongside the Queensland Wind and Brass at The Old Museum venue in Brisbane.
Liam won a Highly Commended Award for the composition at the 2022 Australian Society for Music Education (ASME) Queensland Young Composers' Competition in October last year, a remarkable achievement, especially at the tender age of 12.
Now 13, Liam follows in the talented footsteps of Flinders' Kairyo Searle who in Year 11 in 2021 won first prize in the competition's Senior Division for his piece, 'Supernova'.
Each Tuesday evening in the months leading up to the 22 April concert, Liam's parents drove him to Brisbane – straight after soccer training – to workshop and rehearse the piece with the Queensland Wind and Brass and their celebrated conductor, Alisa Jones.
The Queensland Wind and Brass formed over 30 years ago to nurture young musical talent and is comprised of over 50 amateur and professional woodwind, brass and percussion players, with several prestigious awards to their name for outstanding performance.
"It was an amazing experience having my composition piece played by a talented band like the Queensland Wind and Brass!" Liam said of the concert experience.
"When a piece is played live, there is so much more expression that you can't get on a computer," he said.
"Hearing my piece being played like this was a very exciting experience and playing it with the band made it even better.
"I learnt a lot from the workshop experience with the band and Alisa as the conductor, and I am already incorporating it into my next pieces.
"I'm now writing a piece to accompany an animation.
"I showed what I have done so far on this piece to Alisa and she said I have really improved since composing my last piece!"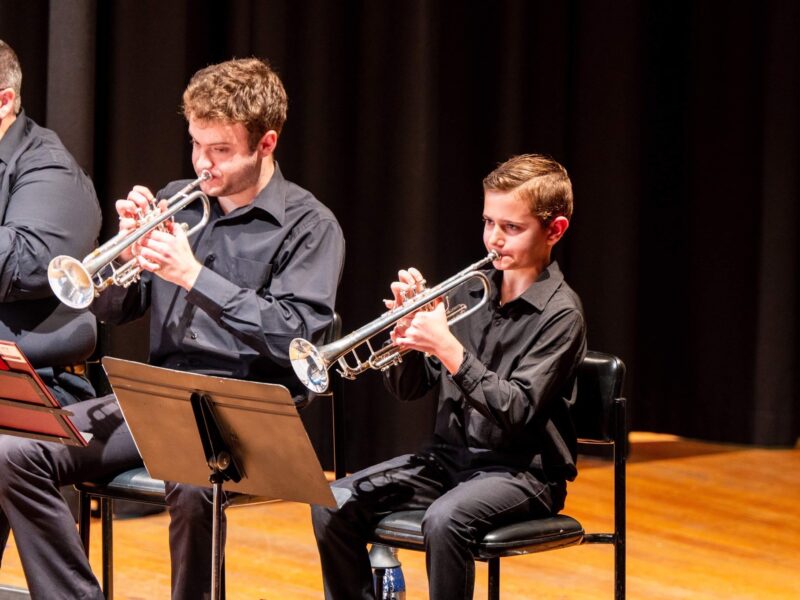 Embracing Opportunities Through the Flinders Music Program
Liam's passion for music sees him play in five music ensembles at Flinders and recognised as a Music Scholarship recipient.
The College's Director of Music, Mr Nick Campbell said, Liam is a talented young musician who is eager to develop and grow his musicianship and technical skills.
"Liam has developed his music skills over many years of private tutoring and also through our music curriculum in his Primary and Secondary years, where there is a strong composition component," Nick said.
Liam is also studying the Flinders Music EDGE extension program, which challenges top music students in Years 8 and 9 to develop and extend their music literacy and performing skills.
And in July, Liam will join the 2023 Flinders Music Tour to the Australian International Music Festival in Sydney where he and his fellow student musicians will perform in the Sydney Opera House and Sydney City Recital Hall (Angel Place), two of the most iconic music making centres in Sydney.
The tour involves 82 music students from across three College ensembles – the Capriccio Strings, Chamber Voices and Wind Symphony.
Nick said, "To enrich his composing experience, Liam seeks mentoring and feedback from staff and students at the College.
"It's rewarding to see a young music student like Liam creating his own projects and also embracing new opportunities on offer to explore his passion for music."
Liam was also one of six students at Flinders to successfully audition for the Queensland Symphony Orchestra's Prodigy Project when the QSO performed at Flinders on 31 March.
This earned Liam the chance to be mentored by a QSO musician and to join the entire orchestra on stage to perform the final piece of the evening concert, 'Hymn to Mother Earth'.
Music Making Runs in the Family
Liam's interest in music began at age eight, when he first picked up the family bugle to learn how to play 'The Last Post' with his Grandad, who he still busks and plays gigs with.
Over the years, Liam, and his brother Lachlan in Year 6 at Flinders, have donated thousands of dollars to charity from busking with their grandfather.

The brothers are the fifth generation of family musicians.
Click here to learn more about Flinders music program.