The principal of leading independent school Matthew Flinders Anglican College on the Sunshine Coast, Mr Stuart Meade will resign at the end of 2023 after seven years of dedicated and esteemed leadership.
The Board of Directors and Mr Meade announced the news to the College community on Tuesday, 13 June.
Mr Meade said it was "business as usual" until the end of 2023, when he will resign to spend more time with his family based in Western Australia.
The Flinders Board Chair, Ms Peta Grenfell acknowledged Mr Meade's "hard work and tireless service" and thanked him for leading the College through many positive changes.
"We are extremely grateful for everything Mr Meade has achieved, particularly with his contribution to the strategic direction, successfully navigating COVID and ensuring an ongoing and safe learning environment for our students," Ms Grenfell said.
"Stuart is an esteemed professional and he leaves the College in great stead."
The President of the Flinders Parents and Friends' Association, Mrs Caroline Edwards said Mr Meade had led the College to great heights.
"The P&F is grateful to Mr Meade for leading our Flinders community with strength, understanding and integrity over the past seven years, and especially through the pandemic.
"Despite the disruptions to our sense of community, Mr Meade has encouraged our parents and friends to connect and get involved in the many school activities available at Flinders to support our children and enjoy the memories created along their schooling journey."
Mr Meade has served 21 years as a school principal and said he has enjoyed the rewards and challenge of his principalship at Flinders since joining the College community in 2017 when he relocated to the Sunshine Coast from Perth.
"I am honoured to have led Matthew Flinders Anglican College for the past seven years," Mr Meade said.
"It has been a pleasure to have contributed to providing our students with a quality education for excellence in learning and life," he said.
"There is so much on offer at Flinders, both in the classroom and beyond, and my hope for every student is that they embrace the opportunities and find a purpose that propels them each day.
"It's vital for young people to have a sense of belonging, and that's what we strive to provide at Flinders, so that our students feel seen, heard and cared for.
"From this supportive and nurturing base, our students have the opportunity to reach their potential academically and develop as respectful, aware and contributing citizens."
Mr Meade said he had enjoyed working with the College's more than 250 staff.
"Our team proudly provides the quality teaching and innovative real-world learning contexts for which Flinders is renowned," Mr Meade said.
"I appreciate their continued support, passion and steadfast commitment to supporting, challenging and inspiring the students in their care."
Key Projects Delivered During Principalship
Enrolments have increased consistently during Mr Meade's tenure, with the College now at 1,400 students and with robust waiting lists for all intake years across the Primary and Secondary Schools. 
Key projects delivered under Mr Meade's leadership include the Flinders Master Plan, which has seen a suite of innovative facilities open across the Primary and Secondary School campuses from 2019 to 2024.
The exciting new Infinity Centre is set to open for learning in 2024 for students to explore entrepreneurship, innovation, creativity and design thinking across a range of disciplines.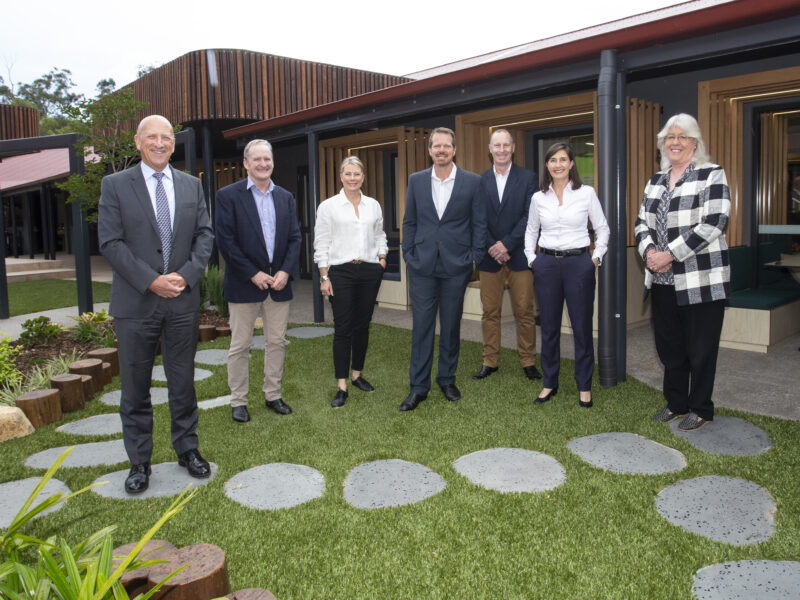 Mr Meade has also overseen the launch of the Flinders Elite Athlete Program, the reinvigorated Year to RISE curriculum in Year 9 and other enrichment programs, and the College's acceptance as a Round Square school in the international network of more than 200 like-minded world-class schools across 50 countries.
In 2020 Mr Meade guided the College smoothly through the transition from OPs to ATARs for Queensland tertiary entrance, with Flinders' graduating classes consistently achieving high ATAR medians each year since, ranking them among the top performing schools in the state.
Flinders was the only school on the Sunshine Coast to have three graduates in three years achieving the highest ATAR of 99.95 from 2020 to 2022.
In 2021's NAPLAN results, Flinders was the highest achieving Primary School on the Sunshine Coast and ranked 15th in Queensland.
And in 2022, both the Primary and Secondary Schools ranked with the highest NAPLANs on the Sunshine Coast.
Also in 2022, Flinders was:
Ms Grenfell said the Board has begun recruitment for a successor to "continue the vision and passion we have here at Flinders".
"In the interim, we will maintain our high standards of education, ensuring that the College remains committed to challenging and supporting our students," Ms Grenfell said. 
The position of Principal at Flinders is advertised on Seek here.
As a Principal and educator, Mr Stuart Meade has enjoyed a distinguished career. He joined Matthew Flinders Anglican College in 2017 as an established leader.
Stuart was previously Headmaster at Hale School in Perth, one of Australia's leading schools, which he led with distinction for 14 years.
Prior, he served as Deputy Headmaster at Cranbrook School in Sydney and at Newcastle Grammar School.
For more information or media interviews, please contact Director of Community Engagement, Ms Alison Walburn at awalburn@mfac.edu.au or 07) 5477 3200.