Local artist Sarah Sculley is working with students at Matthew Flinders Anglican College Secondary School on a large-scale mural art project, the fourth major mural in the College's public art collection.   
Nurturing the talent of our budding artists, Sarah collaborated with students from Years 7-12 who volunteered to be a part of the project.
Students were involved in designing and painting the mural, with aspects of their artworks incorporated into the artist's vision.
The mural measures 9 metres in length and took four days to complete.
Year 12 student Isabelle Campbell sketched by hand the designs for many of the characters depicted in the mural.
"Illustrations have always been a passion of mine, so discovering how to take these from the page and design them at scale has been an exciting process," Isabelle said.
"This project has allowed me to refine my personal style, drawing on the techniques learned in class and applying them to a different medium."
Our aspiring artists have been able to tap into their creative potential, exploring new techniques and ways to express themselves.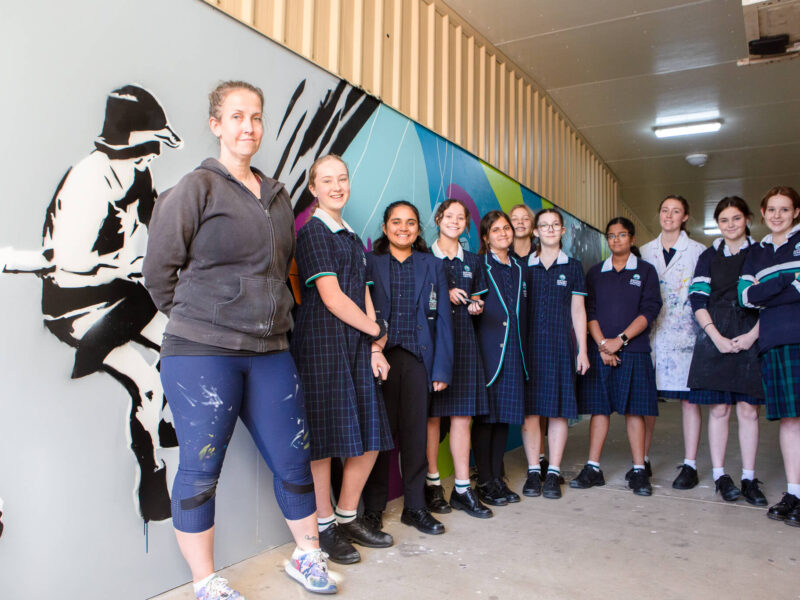 Year 8 artist Giselle Graves said being involved in the project gave her a sense of pride, knowing that she was leaving her mark on the building that will be home to the Flinders Art Department until the new Design Centre opens in 2024 as part of the Flinders Masterplan.
"I have always admired murals and wanted to contribute to one so when the chance to take part in this project came along I put my hand up!" Giselle said.
"Our mural is full of colour and life, embracing what Flinders is all about," she said.
"We all have different artistic styles and this project was about coming together to create something that was unique to us and who we are, which I am really proud to have been a part of."
Flinders Head of Art, Mrs Ros Braithwaite said the mural enabled students' to work alongside a local artist while creating engaging and imaginative spaces for campus visitors to enjoy.
"A project like this is not only an opportunity for the students to collaborate across year levels but something in which the entire College community can take pride," Ros said.
"I have seen firsthand how effective the many mural projects across the College have been in establishing a sense of connection to place, giving students a greater sense of ownership over the campus," she said.
"Bringing collaborative art to Flinders is important in encouraging and empowering individual student creativity towards a common goal, with a result that is more than the sum of its parts. This allows our students to see the big picture, working together to create something truly special."
The exterior of the Secondary Sports Centre that faces the Art Block will host the new mural.
It is the fourth major mural in the College's public art collection, which includes works in the Primary School by David Houghton; Joel Moore (a.k.a. Mulga the Artist) who also facilitated creative workshops with students as an artist-in-residence; and Claire 'Fuzeillear' Matthew whose piece is on the exterior walls of the new Wonderarium learning centre, which opened in October 2021 as part of the Flinders Masterplan.
The Masterplan's two-storey Design Centre in the Secondary School will be home to subjects including Visual Art, Design, Technology, Digital Tech, Business and more.
The facility is designed to be a dynamic and agile hub for students to embrace and explore entrepreneurship, innovation, creativity and design thinking.