The Tony®, Grammy®, Olivier and Pulitzer Prize-winning hit musical Hamilton is showing at Brisbane's QPAC until 23 April 2023 – with not one but two alumni from Matthew Flinders Anglican College on the Sunshine Coast up close and personal with the hype and hysteria behind the scenes!
Laura Tipoki from the Flinders Class of 1999 is the Musical Director and Conductor of the Australian production of Hamilton, tasked with expertly directing a music score that blends hip-hop, jazz, R&B and Broadway.
A highly sought-after musician and conductor, Laura has worked on major shows and tours in Australia and internationally over the past 10 years, including the School of Rock, Wizard of Oz, My Fair Lady Opera, Wicked: The Musical and Les Miserables.
When the Flinders Young Professionals program invited the Old Flinderian network to provide opportunities in their industries for Flinders students and graduates to upskill and chase their dreams, Laura kindly raised her hand.
To help support the next generation of creative artists at Flinders, Laura had a unique five-day internship opportunity for a keen graduate to join her on the Hamilton set at QPAC's Lyric Theatre in Brisbane.
The Flinders Young Professional organisers, Secondary Teacher Mr Tom Hauritz and Old Flinderian Liaison Mrs Rachel Sotiropoulos, thought that graduate Katie Collins would jump at the chance - and she did!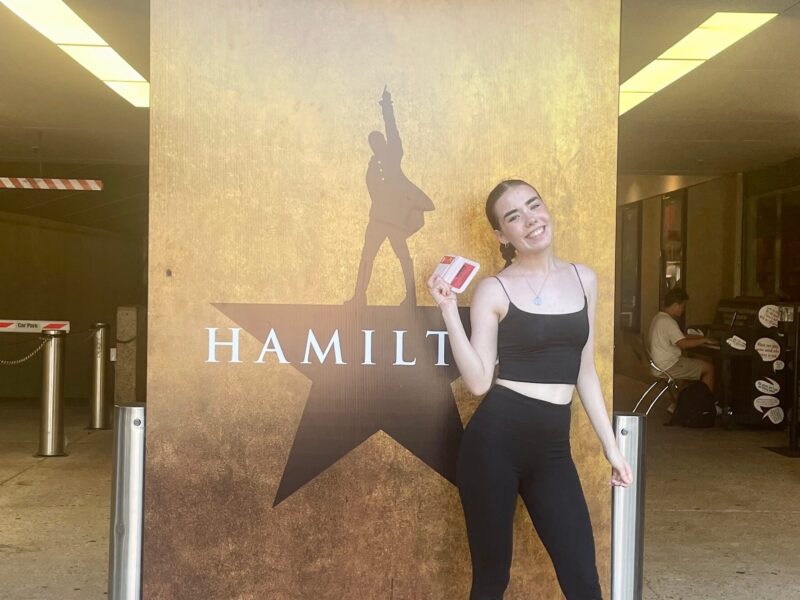 Katie graduated from Flinders in 2022 and began her three-year Bachelor of Fine Arts, Majoring in Acting at the Queensland University of Technology in February this year.
Prior to kicking off her university journey, Katie was grateful to spend a jam-packed, inspiring five days on set with the Hamilton cast, crew and creative team in January.
Each day at Hamilton, Katie shadowed the department head of a different section, starting in the orchestra pit alongside Laura as the Music Director to experience the show's epic music score in real time.
"I was so nervous on that first day!" Katie laughs.
"But everyone was lovely, and they all couldn't get their heads around how I was given such an amazing opportunity backstage on such a major production!
"The whole experience was just so cool. And it's all thanks to Laura and being a part of our College community and the Old Flinderians alumni network.
"With Laura, I got to sit in the orchestra pit and I was given headphones and access to a little console. So, while the show was going on, I could control who I was listening to in the cast. I could turn up different instruments and they gave me a music score to read along and watch what everyone was doing. It was amazing!"
To follow Katie's Hamilton internship day-by-day, see below.
Exploring the Creative Arts at Flinders
Katie has had her sights set on a career in the creative arts since the moment she joined Flinders in Year 8.
She immediately embraced the co-curricular opportunities at the College, participating in two major creative arts shows as well as playing the French horn in the Flinders Wind Symphony ensemble.
Katie achieved a top score of 97% for her Senior Drama subject, and credits her success to the support, encouragement and passionate teaching she received from Flinders' Head of Drama, Ms Charlene McMenamin.
Katie considers Ms McMenamin the "Queen of Drama", appreciated her "sense of play, encouragement and support, and the friendly vibes in the classroom".
"I believe I achieved such strong marks in Drama because of the way Ms McMenamin taught us by encouraging our creativity, hands-on learning and teamwork."
Katie also praised Flinders Director of Creative Arts, Mr Danny Parker for the "amazing" community he builds and the confidence he instils in students.
"Mr Parker makes sure that everyone who wants to explore the creative arts at Flinders has opportunities to shine, no matter their age or skill level, and he is so supportive."
As for the venues at Flinders, Katie was delighted to find that the Lyric Theatre reminded her of her time learning in the state-of-the-art Flinders Performance Centre.
"Because our Performance Centre at Flinders is such an insane venue, I kept thinking how familiar the equipment and layout was at the Lyric Theatre, and I realised, wow, we did this at school!"
Five-Day Internship at Hamilton The Musical for Flinders graduate, Katie Collins, January 2023
On Day 1 of her internship on the set of Hamilton The Musical at the Lyric Theatre, Flinders graduate Katie Collins shadowed Old Flinderian Laura Tipoki in her role as Music Director of Hamilton.
"With Laura, I got to sit in the orchestra pit and I was given headphones and access to a little console. So, while the show was going on, I could control who I was listening to in the cast. I could turn up different instruments and they gave me a music score to read along and watch what everyone was doing. That pit day was just so cool!"
On Day 2, Katie was invited to sit in the theatre and observe the intensity of rehearsals as the swings, stand-bys and understudies learned their parts. She marvelled at the rigour and precision demanded of the artists during rehearsals for such a major show.
Day 3 turned out to be Katie's favourite day, as she shadowed the person in charge of hair and wig design for the Australian production of Hamilton and also for its season on Broadway.
Katie said, "The Head of Hair & Wig Design has to go into each performer's dressing room to fit their wig, so I was able to follow her and meet every cast member as they were getting ready and warming up their voices!
"We put on Alexander Hamilton's wig and the Schulyer Sisters' wigs, and all the stars of the show. That was simply amazing, getting to meet all of them!"
Katie also had the chance to be backstage during the performance to watch as the crew changed wigs and fixed hair on the spot during the performance.
"So I was literally backstage, watching the performance unfold!"
On Day 4, Katie shadowed the Head of Sound, who she describes as a "master". His job involved creating the digital sound in real time, which required precision control, such as turning microphones on and off for each and every cast member as they sang their specific line.
The music of Hamilton involves a high-tech system of manipulated microphone levels, signal pathways, 3D-computer modeling, digital processing and more than 170 speakers positioned around the room.
On Day 5, the final day of the internship, Katie shadowed the person in charge of props, who Katie discovered was studying his Masters of Singing Teaching.
"And when I explained that I would need a singing teacher while I'm at QUT this year, so he offered to help me get in contact with some amazing singing teachers in Brisbane, which is just so kind and helpful!"
Old Flinderian Laura Tipoki Excels as a Musician and Conductor
A positive role model for our Flinders students, Old Flinderian Laura Tipoki's study and career journey demonstrates that it takes passion, persistence, resilience and plenty of hard work to achieve your career dreams, especially in a competitive industry such as the performing arts.
After graduating from Flinders in 1999, Laura went on to study at the Queensland Conservatorium of Music Griffith University and graduated with a Bachelor of Music in Classical Performance (Piano) in 2004.
Laura began developing her career as a music director and supervisor in the performing arts industry, working nationally and globally on major shows, including the School of Rock, Wizard of Oz, My Fair Lady Opera, Wicked: The Musical and Les Miserables.
Her vast experience led to her securing the sought-after Musical Director and Conductor role with Hamilton in Australia in 2023.
Over her career, Laura has developed diverse skills in conducting, piano, theatre, orchestral and band work, and vocal coaching.
Laura went back to the books in 2011 to gain her Specialist Certificate in Orchestration for Film and TV Focused in Music Theory and Composition from Berklee College of Music in 2015.
Learn more about the Old Flinderians' Association here: https://www.mfac.edu.au/community/old-flinderians-association/